Maine Cruise 2004
Week 4
---
---
Sunday, August 15, 2004
Bucks Harbor
Early in the morning, light rain began, but NOAA had somewhat backed off their earlier, overly-confident forecasts (note the utter lack of shock in my tone). Rain through the morning was quite steady, but pretty light; the winds were nonexistent. It's OK to have weather that is less inclement than predicted, though if this mild an event had been predicted, we probably would have chosen to move the boat yesterday, rather than stay in Bucks ad nauseum.

Oh well...such are the trials and tribulations of the cruising life, no? Fortunately, we like Bucks Harbor, but still. Perhaps we should just stop listening altogether. Looking around the harbor, it was clear we weren't the only ones fooled by NOAA's comedic forecast; quite a few other boats had been swinging on moorings for the same time period as we.

I've been mulling some cockpit coaming seat ideas during the cruise--something that would allow me, or someone else, to sit on the coaming comfortably. I have found that sitting there is nice sometimes while sailing, or while motoring, but even with a cushion temporarily on top of the narrow coaming, it's just not very comfortable for long. My seat idea is in the works, but I'm picturing something that slides over the coaming for a friction fit, and then is supported by an adjustable foot on the seat inside (adjustable so that the seat could be located in several different locations, owing to whim).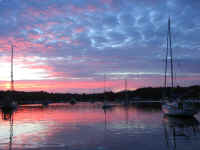 There was little to report for this day. The sun even came out for a brief period during the afternoon. Fortunately, we had made plans with our friend Andrew to go out to dinner in the evening. At 8:00, we went ashore for a great dinner at the nearby Cafe Out Back, which far exceeded all expectations--it was terrific. Highly recommended. Afterwards, I visited with Andrew on board his trim Cape Dory 27, Angelina, where we chatted for some time, and even enjoyed (well, enjoyed may be too strong a word: actually, it is) cheap cigars, reminding me of college. (Andrew: better cigars next time! haha) Didn't get to bed till midnight...late!
(Note: I cheated. This photo was taken the day before, but that's Angelina to the right.)
---
Monday, August 16, 2004
Bucks Harbor - Barred Islands (6.83NM Plotted)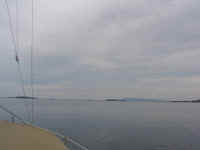 The day started gray and dreary, with light rain. Not to matter: we were going no matter what. As it turned out, the rain stopped presently, and the day, while remaining predominately gray, was pretty decent overall. Winds were nonexistent all day.

We departed Bucks Harbor at about 0930, after a final trip ashore for ice, trash disposal, and to say goodbye to Andrew. I raised the main and dropped the mooring; it felt good to be underway again.

Lately, I've noticed a somewhat disturbing trend with my alternator when the engine is first started, and shortly thereafter--particularly when it hasn't been run for a couple days. When this situation occurs, the alternator is under quite some load as it struggles to replace the used amp-hours to the batteries--understandable. But for the first few minutes of operation, sometimes smoke will pour out of the engine room, creating concern on board. All seems to be more or less OK, and hte problem goes away once the engine is warmed up. I suspect an adjustment may be required for the Next Step regulator, but I'm not sure. In any event, it still charges fine, and at this point in the trip I expected to make it home with no incident. Nonetheless, it presents a vexing problem, one that I will research and dig into in more detail later on. I can always turn off the regulator if needed, effectively shutting down the alternator. No error codes are present on the regulator, which provides a constant indicator of its charging cycle status, as well as error codes if required.
Our destination for today was the nearby Barred Islands, a small archipelago of rocky islands just south of Bucks Harbor. We had tried to anchor here during the 2002 cruise, but the small cove was filled with boats at hte time. This time, after motoring down (no wind), we found, to our delight, an empty anchorage. I entered with care, as some malfunction on my part a couple years ago had led us too close to some rocks at the entrance--it's never fun to glance over the side and see the yellowish, shimmering glow of ledge or bottom unexpectedly. This time, we entered without incident, and after scoping out various anchoring options chose a spot and dropped the hook in about 30' of water at near high tide.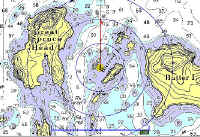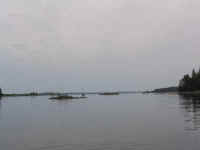 What a pretty place! The scenery changed drastically as the tide went out, eventually exposing sand and shell bars across most of the openings between the various islands and rocks. I rowed around a number of different times, scoping out the rocks, bars, and shallow areas--partly out of interest, and partly to figure out exactly what the extent of the rocks near the entrance were, and other hazards.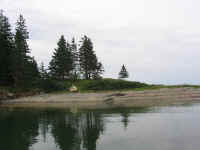 Surprisingly, we ended up remaining the sole boat in the anchorage overnight; it was a great and unexpected pleasure. Late in the afternoon, we were visited by three people in a rowboat, who turned out to be Eric and Tamara Jorgensen from Portland, owners of Triton #707 (708??), who were staying in a house on Great Spruce Head Island (not on their boat). We visited for a short while before their two year-old son (the apparent captain of the dinghy) demanded that it was time to continue with the exploration.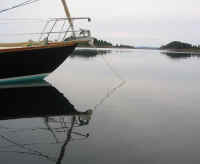 The wind was nonexistent all day, and all evening. It was extremely quiet, except for the wildlife: many osprey, and what we termed a futility of cormorants (i.e. gaggle of geese, flock of sheep, herd of cattle, etc.), which seemed to have laid claim to the large ledge (which remains above high water) in the anchorage.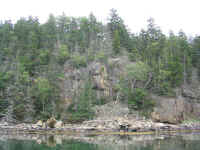 It was dark and still overnight; we hardly knew we were on a boat. Incredibly calm and quiet, except for a period of moderate rain at some time overnight (I didn't look at the clock).
---
Tuesday, August 17, 2004
Barred Islands - Seal Bay Vinalhaven (10.77 NM Plotted)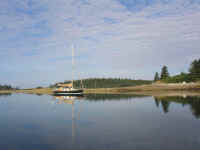 The dawn was hopeful, and by 0800 the sun had broken through and evaporated most of the leftover cloudcover from overnight, ringing in a beautiful new day. It remained glassy calm.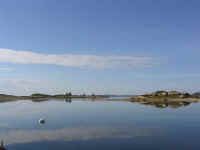 Since we wanted to return to Seal Bay in order to do some exploring of the myriad coves, inlets, and rocky areas--which we had been unable to do during our visit last week because of the winds--we departed fairly early at 0900. I chose to head through a narrow passage between Little Barred Island and Great Spruce Head, which was fun--and made much more enjoyable by the GPS chartplotter.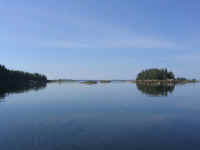 Our course threaded us between several islands as we headed southeast towards Vinalhaven. For a time, it appeared a southeasterly sea breeze was going to fill in, and we sailed for 10 or 15 minutes before the wind, as usual, died, forcing us to motor the remainder of the way to Seal Bay. Of course, as we reached the entrance of hte bay, the wind began to gust from the southwest at up to 20 knots, but just as quickly died once we entered the scenic bay.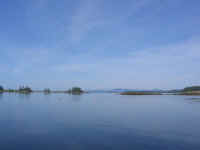 Crossing the eastern side of Fox Islands Thorofare, we experienced what I had begun to call "wakes of perpetuity", since it seems that powerboat wakes, from whatever sort of boat--lobster, megayacht, outboard, or cruiser--seem to travel at exactly the same speed we do, causing us to roll and sway for what seems like forever, stuck in the troughs until finally, in exasperation, I would turn the boat one way or the other to force us back into calmer water.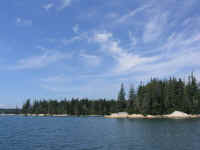 For this visit, we chose a spot tucked inside Hay and Burnt Islands, which was pretty and offered good protection from the southwesterly winds at the time. Last week, this area had been filled with boats, but this time, we had it to ourselves, at least for the time being. We dropped the hook in about 18' of water near high tide.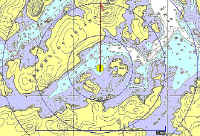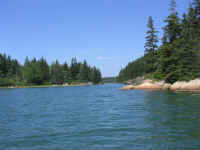 After lunch, we immediately took to the dinghy, which I had equipped with the outboard for our excursion. We headed west up Seal Bay and around Penobscot Island over to Winter Harbor, near where we had anchored during our 2002 cruise there. Today, I wanted to head up a narrow, craggy gut in the rocks, which I had noticed before but was simply too extensive to explore by oar power alone.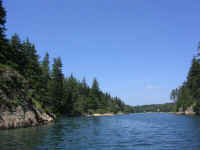 What a cool place! The entrance was marked with a small, rocky island, and once inside, we entered a narrow channel lined with granite, with many more rocks visible just beneath the surface. I wasn't sure if it was at all navigable by even a dinghy at low tide, but once we got in a ways the channel, as it were, opened up into an expansive sort of lake, with even a couple lobster buoys. If a boat could make it in at high tide, and if there was enough water there at low, it would make a perfect hurricane hole. I don't know if a sailboat could ever make it up the small channel, though. I think the chart below, which shows the place we dinghied, is simply lacking in soundings because of the essentially un-navigable quality of the area--not because (necessarily) the area drains completely at low. But I don't know...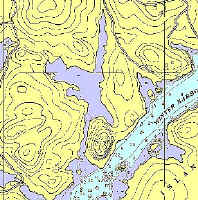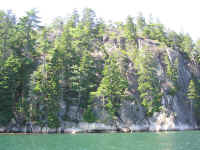 In any event, we enjoyed exploring the area, and headed back out the long, narrow cut that is Winter Harbor, passing close by the high, sheer granite outcropping that marks the bay. At the eastern end of Penobscot Island, we returned back into Seal Bay, and chose a small, rock-strewn channel inside several of the small, rocky islands to return us to the area in which we had anchored. Fun!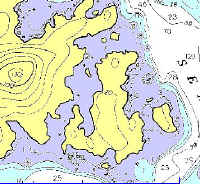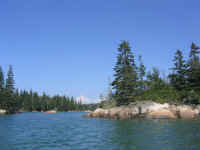 In the exposed area near where we anchored, the wind was howling, kicking up a nasty chop. It was impossible to stay dry during the half-mile run back upwind to the boat, though we both had our bathing suits on. The wind was gusting well into the 20s, much like the last time we were here. Heidi and I discussed the irony of it all, and wondered if the natural terrain surrounding the harbors was at all responsible for the Williwaw-like gusts, which seemed to be near double the steady wind strength, and also came from almost north of west, while the prevailing wind direction was southwest.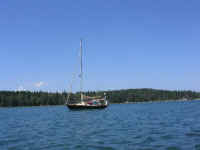 The irritating, gusty winds eventually drove us both below, seeking refuge. I hoped that the winds would die in the evening--and expected they would, unlike our experience a week ago. It seems lately that the winds are either nonexistent, or howling southwesterlies that are too strong to make for pleasant traveling...one can't win, I guess.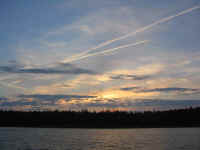 The winds eventually calmed down a bit by dusk, but continued to blow lightly through much of the night. As we went to bed, the skies were nice and clear, with good stars overhead. However, when I awakened at about 0400, I found thick, wet, dense fog hanging over everything--but at least the winds were calm! Our forward hatch, which was open, funneled the dampness below, where it pooled on the hatch screen and then, finally, dripped on our heads unexpectedly.
---
Wednesday, August 18, 2004
Seal Bay - Tenants Harbor (24.6NM Actual*; 24.4NM Plotted)
*As you can see, I finally--only this morning--discovered how to set, and then observe, trip mileage from the GPS--something I haven't figured out in 4 seasons. This will be handy to have, so from now on you should see more references to total mileage for daily routes or trips.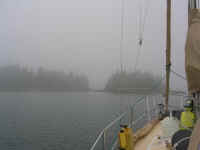 The fog was still thick in the morning, so we relaxed, with no hurry to leave. Unfortunately, today marked the true beginning of our push home, and the end of the cruise--boo! As a result, I was hardly excited about heading south. It did appear, however, that the fog would indeed burn off later--the sun was evident overhead, and by 0830 the fog began to slowly move in and out, indicating that it was not here to stay.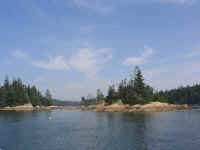 Shortly before 1000, the fog was well on its way out, so we decided to leave and, at a minimum (worst case scenario), get through the Fox Islands Thorofare; depending on what we found there, we would determine our next destination. I had a number of routes plotted that I downloaded to the GPS, attempting to cover all contingencies. When we departed, there were a number of unknowns: would the fog be thick on the other side, or would the wind be strong and unfavorable? And how far would we feel like going?

Leaving Seal Bay, the seemingly local wind phenomenon reared its ugly head once more, treating us to gusts over 20 knots as we left the Winter Harbor entrance; offshore, a short distance away, it was clear to see that the winds were calm. Weird. With the main up and under motor, we powered through Fox Islands Thorofare, experiencing more of the high wind gusts through much of the passage.

On the western side of the thorofare, we faced the decision: where to head. As we rounded the final bend, exposed to the south for the first time, we were greeted with fog blowing in from open water on a fresh breeze. Seeing this, we at first decided to head to our default location: Long Cove on Vinalhaven. We had started steering a course there, when I realized the fog had retreated somewhat. After some hemming and hawing, we decided to continue further south, as had been our original plan.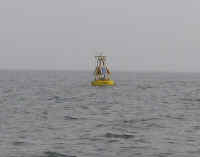 We thought of heading to Home Harbor, on the western side of Two Bush Channel, but we decided to head a bit further if possible, so instead we steered a course for the southeast tip of Marblehead Island, just east of Muscle Ridge Channel and south of Fisherman Island Passage. The wind was directly on the nose (of course), and was surprisingly light as the fog continued to retreat, leaving hazy sun in its wake. It was rather pleasant, in fact. For a time, the wind rose enough to warrant a reef, and as we were considering getting under sail, hoping to make a course close enough to be worthwhile, the wind lightened significantly again, so we continued under power with the reefed main. We passed nearby to one of the weather buoys whose observations are presented on the NOAA forecasts--this one the buoy 3 miles southeast of Owl's Head.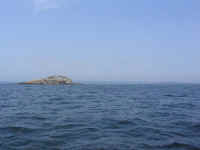 Once in Muscle Ridge Channel, we had the benefit of the ebbing tide on our side, with Vinalhaven-like gusty winds inside the channel. At the southern end, the outgoing tide against the incoming wind forced up some sloppy seas, which were kind of fun to bounce over as they were not particularly steep or threatening. By now, we had decided to head for Tenants Harbor, as we felt we had covered enough distance for the day and were getting tired. After all, we aren't trying to break records here, and only planned to be home on Saturday (maybe Friday). The problem is, as we near our home waters, there's an undeniable urge to just push home the rest of the way; I'm trying to avoid that, as I'd like to enjoy the last few days.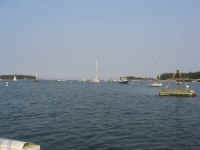 In Tenants Harbor, we picked up one of the Cod End rental moorings, one of the few remaining rental bargains on the coast at $15. I hadn't been into the inner harbor at Tenants for some years, dating back to when I cruised with my family back in the '80s. It was actually far nicer than I had expected, and we were pleasantly surprised.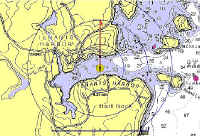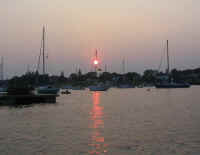 The remainder of the afternoon passed uneventfully. The sun became an orange blazing disc as it began to set in the hazy western sky, and reminded me of the Times Square new year's ball by the way it seemed to drop down the mast of a nearby moored boat.

Please click here to continue.--->