Maine Cruise 2004
Week 3
---
---
Sunday, August 8, 2004
Burnt Coat Harbor - Buckle Island (6.72NM Plotted)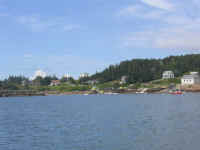 With a short day planned, we relaxed on the mooring until about 1100. Once again, the weather was gorgeous and perfect. Today, I hoped to take advantage of some wind later in the day and sail up to Buckle Island Harbor, so we waited around. By 1100, it seemed that the breeze was beginning to fill in, so we departed. Sadly, outside the harbor, the sea was glassy with no wind--rats.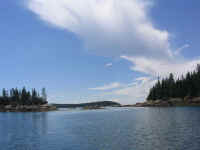 We were the first boat into Buckle Harbor, save for a small powerboat that was there for the afternoon only. We picked a good anchoring spot near the head of the harbor, dropping the anchor in 7' of water at low tide; the anchor was on the bottom before I knew it, and before the chain was all in the water we had sufficient scope out for the low tide depth. (I let out about 70' total to allow for the expected high tide depths of, I figured, 18'). The water was quite clear, though I wasn't able to find the anchor a half hour or so later when I rowed around.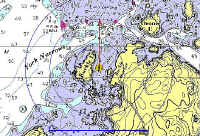 Buckle Harbor is such a cool place, especially at low tide. The head of the harbor is filled with granite outcroppings and tidal islands. Very pretty. Throughout the afternoon, a number of other sailboats filtered in, gradually filling the harbor with 12 boats. Late in the afternoon, the promised wind finally began to blow, eventually gusting as high as 20 knots a few times.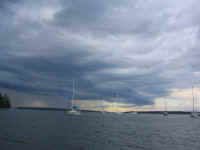 Near cocktail time, the sky to the west darkened; NOAA had mentioned the possibility of thunderstorms, but it hadn't seemed the sort of day I might have expected any severe weather. It was soon clear, though, that there was a major squall line passing through. What was less clear was where it would end up in relation to us. Given the appearance of the clouds I could see, and the NOAA warnings on the radio, I let out another 30' of scope, and prepared for anything that might happen by stowing the awning and cockpit table, and getting my foulies ready--just in case.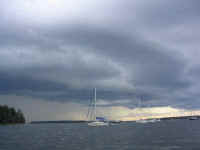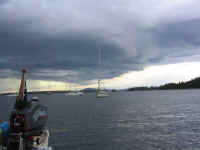 We were fortunate in that the worst of the squall line, whatever it may have contained, passed us by safely to the north; but we were very much immediately on the edge, and there were some relatively minor gusts for a time during the squall's passage. One of the boats in the anchorage--which had done a poor anchoring job to begin with, in my estimation--dragged about 200' before fetching up again, quite near another anchored boat. I felt helpless at first watching them drag, as I saw no signs of life on the boat and wasn't sure they knew--but there was nothing I could do. Eventually, the owner came up on deck, and I relaxed. I was surprised they weren't watching the events unfold anyway, like I and nearly everyone else in the harbor seemed to be; I was on edge the whole time, hoping for the best but prepared for the worst the storm might throw at us.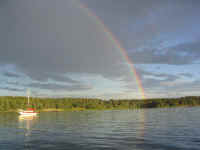 In the end, we had some frightening looking clouds, some 25-knot gusts, and a minor wind oscillation, with some rain falling after the worst of the clouds has passed. As the back side of the squall finally passed, revealing sunshine again, an excellent, perfect, full rainbow appeared--to the extent that we could see both ends of the rainbow "hitting" the ground on nearby Swan's Island. We had never seen anything quite like it. The pictures surely don't do it justice.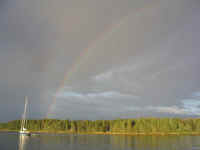 Later, the sky cleared, and when I went on deck for my final walk-around a little after 2100, the stars were amazing, with no moon yet to wash them out. I don't think I've ever seen the Milky Way as distinct as it was. Too bad pictures couldn't capture the incredibleness of it...one simply cannot see stars such as this anywhere near civilization.
---
Monday, August 9, 2004
Buckle Island - Hells Half Acre/Bold-Camp-Devil Islands Buckle Island
Dear Mr. Nice NOAA Man,
My name is Timmy, and I am 37 years old. Part of my summer project is listening to your weather forecasts on the radio. I listen every day while I am on my boat sailing on the coast of Maine. I like hearing the cool synthesized voices, especially when they make a pronunciation mistake. It's funny.
I have noticed that your forecasts seem to be, um, (how should I say this), lacking in the most remote vestiges of accuracy. Today, f'r'instance, I listened to your forecast man and he said that the winds would be west 5-10 knots in the morning, and becoming 10-15 knots from the southwest in the afternoon.
Mister, maybe you can tell me why we had southwest winds of 20-25 knots when we left our harbor this morning. I bet you were playing a joke on all of us--you guys are really funny! Ha ha. Or maybe the forecast was in code, and I lost my secret decoder ring. That might be it too.
My wife, whose name is Heidi, really liked it when the winds got really strong. We had so much fun that we thought it would be wicked fun if we went back to our same harbor so that we might be able to have as much fun tomorrow as today!! It was extra funny because the place we were going was right in the wind, so we got to sail back and forth trying to get there. Wheee
Because I have been listening to your funny man on the radio all summer, I have noticed that today was not the first time that he made a joke about the weather. He must be a comedian, because he makes jokes every day almost. I would like to meet him because he is so funny.
Anyway, Mister NOAA, I hope you will write me back and tell me all about your forecasts, and how the funny man makes all these jokes all the time. A grown-up told me once that the weather coming out of the radio was supposed to help people like me, who are on their boats on the water. But how do these funny jokes help people on the water like me?

Sincerely,

Timmy Lackey
It could have been September: the morning was crisp and cool, and the sky was an incredibly dark shade of blue. By 0800, some wind had already begun blowing, counter to the forecast (but what else is new). Around 0915 or so, I rowed to the head of the harbor to sort of see what was going on out in Jericho Bay; it looked OK, so we decided to head out for our planned destination of Hells Half Acre/Bold-Camp-Devil Islands, across Jericho Bay in the archipelago known collectively as Merchants Row. The distance: a whopping 6.3 miles.

After weighing anchor, we motored out of Buckle Harbor before raising the main, as I wanted to see what the wind was like outside of the protected harbor. I decided to raise the main with one reef, and soon we were enjoying a pleasant--if seemingly underpowered--sail across beautiful, lobster pot-infested, Jericho Bay. I had just voiced the thought that I might shake out the reef when the wind began to blow in earnest. Shortly, I was glad for the reefed sail, and we pounded along in a growing sea for a while through several tacks, as our destination was (natch) precisely upwind.

After a half hour of this, with the wind showing all signs of staying steady and even increasing into the 20s, Heidi decided we should head back: we hadn't really made all that much progress towards our goal, given the tacks involved and the constant slaloming around the buoys and toggles, which were very hard to see amongst the whitecaps. I readily agreed, since there was no particular reason we had to be anywhere. We turned around, and soon enough we were back in Buckle Harbor and heading for the same anchoring spot we had left an hour or so before. We sailed about 3-4 miles total, round trip, I would guess.

During the afternoon, the wind picked up even further, hurling unpleasant gusts through the anchorage. During one brief time I had BoatTV on, I saw 28 knots. Gross. (BoatTV, for anyone who might have missed the reference earlier, is our name for our windspeed indicator.) I let out extra scope because of the ferocity of the wind, even in this protected anchorage.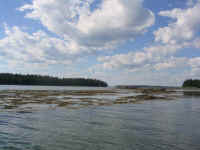 Late in the afternoon, the wind began to abate, finally. I went out and rowed around the rocky head of the harbor while the tide was about half full. The harbor ended up with even more boats than the night before: 14. The evening turned out to be gorgeous--warm, light breeze, and perfect vistas. So it wasn't all bad after all! The wind died before sunset, and it was calm and, once again, incredibly starry overnight.
---
Tuesday, August 10, 2004
Buckle Island - Seal Bay Vinalhaven (17.7 NM Plotted)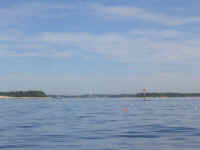 Overnight, the weather forecast deteriorated, and when I listened first thing in the morning, NOAA was calling for significant winds for late in the day, overnight, and into the next couple days. As a result, we decided to modify our destination; we had been planning on spending a few days amongst the islands of Merchants Row, but none of the coves offer the sort of protection I would want for the forecast 25-knot winds. We decided instead to go a bit further and head for either Winter Harbor or nearby Seal Bay on Vinalhaven. We had been to Winter Harbor during our 2002 cruise, and liked it immensely. Either Winter Harbor or Seal Bay offered good protection from the south and southwest, and no exposure to seas or annoying swell (as some of the Merchant Row islands might).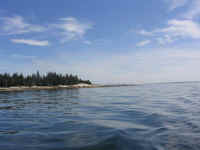 We departed at about 0845 and enjoyed a fair tide down Jericho Bay, which was, this morning, flat calm and windless--quite a change from yesterday. The wind remained calm as we headed down the bay to the eastern side of the channel technically known as Merchant Row, though in general nomenclature all the islands around pick up this name as well.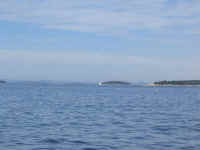 On the western end of the channel, a pleasant southwesterly breeze picked up, and we were soon sailing under full sail in 12-16 knots--lovely. As we sailed across the 4-5 mile width of Isle au Haut bay, the wind picked up a bit, then would slacken a bit, but we had 12-18 knots pretty much the whole way, and enjoyed boatspeeds of nearly 6 knots over ground. The apparent wind direction was a close to beam reach--perfect conditions, really. I made an appeal to the wind gods to let them know that this was how it should be...we'll see if it makes any difference. (It didn't)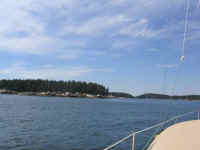 Arriving at the entrance to Winter Harbor, we decided to head for Seal Bay. Unfortunately, at this moment several other boats converged (seemingly from nowhere), and as we proceeded into the narrow entrance to the bay, following a wooden yawl, we found ourselves amidst a parade of these boats, all of whom seemed to be flying the burgee of some unknown Massachusetts yacht club. It felt funny being in this train of boats, and we wished to distance ourselves, but there was little to do but follow along as we trudged slowly along the winding channel into the most logical anchoring zone in the large, but rock-strewn and tidal, bay.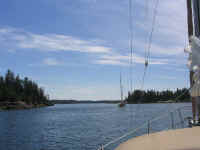 Finally, the lead boat seemed to slow and ponder dropping anchor, which was great as far as I was concerned because they were in an area further out than I planned to go. I throttled up a bit and passed, then continued on to the spot I hoped to anchor, further in. There was a Cape Dory 28 on a mooring in almost exactly the spot I had earmarked on the chart, but we dropped anchor just outboard of her in about 11' of water near low tide.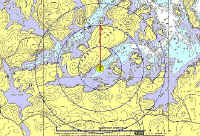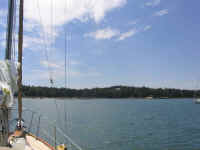 What a beautiful and special place! Only a couple houses were visible in the distance, and the seascape was an incredible mixture of small islands, granite outcroppings, and gently sloping mud basins. There was so much to explore, given the breadth of the bay as well as nearby Winter Harbor and its vast tributaries (which, during the 2002 cruise were sadly under-explored and led to our eventual purchase of an outboard motor for the dinghy) that we decided immediately to stay at least through Wednesday, all depending on the weather, of course.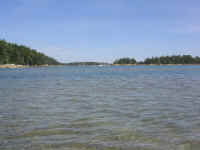 During the afternoon, boats continued to stream in; for some reason, I had been under the impression that Seal Bay might be a sort of secret place that was too far off the beaten path, but apparently not. Most of hte boats stayed in the broader basin outboard of us, apparently part of the club cruise. A couple boats ventured in further, close to our spot.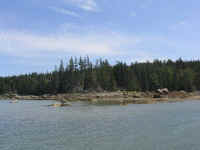 At sundown, we had a surprise from a neighboring boat. We had been watching the owners, and they seemed to be mischievously up to something in their cockpit, but we couldn't tell what. Suddenly, we knew, as their small cannon fired the sundown shot for colors! Would there be another shot in the morning at 0800? (There wasn't.)
---
Wednesday, August 11, 2004
Seal Bay Vinalhaven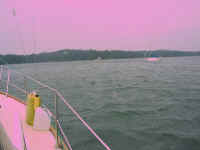 Unpleasant weather: the nagging, gusty, irritating southwest wind that had blown nearly all night continued, and even intensified this morning. The day featured a clogged, moisture-ridden atmosphere, clammy conditions, and low overcast and haze. During the morning, the winds frequently gusted to 25 knots and higher. Amazingly, despite relatively gusty winds overnight (though they did diminish for a time), I slept quite well.

(Note: sorry for the weird pink coloring in today's photos. It is because of a camera flaw.)

About 1000, most of the other boats that had anchored overnight departed. I didn't envy them--it was just that kind of indefinable nasty sort of day, somehow, even if any single condition, taken by itself, wasn't truly so horrible. At least to begin, anyway.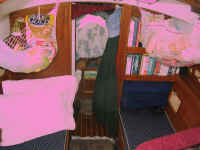 After a late brunch, enjoyed in the cockpit during a sunnier, warm, less-windy period, I turned to several maintenance chores. First, I added water to the water tank, emptying four of the deck jugs into the fill pipe. Next, I tackled the galley sink again, which was still not draining properly; in fact, it was barely draining at all. At first, I still suspected a clog in the drain hose, so, after emptying the locker beneath the galley countertop and bailing out the gross sink, I removed the hose, only to find barely any material inside. Thinking that a kink I had noticed in the hose was at fault, I crawled under the vee berth cushions to access a forward storage locker for another length of hose to replace it. Unfortunately, when I replaced the hose and tried the drain again, it still didn't drain at all. Clearly, something else was at fault.

It was obvious that I had to open up the sump chamber, which I did, enjoying the tight access in the confined space (though it wasn't truly that bad). I won't go into great detail, and I took no photos, but the large horizontal strainer inside the sump appeared to have worked as intended by filling up completely with an appetizing mixture of coffee grounds, food bits, grease, and other stuff. The entire 8" long cylinder was virtually packed. After cleaning it out, the performance of the sink was much improved, needless to say.

Finally, I looked into a problem I had been experiencing with my wind instruments. In addition to a sticky anemometer (which pretty much takes care of itself when the wind picks up), the apparent wind direction display was not working properly. The vane at the masthead was pointing in the right direction, but the display was constantly wrong, and would only show the wind on the port side--and even then, the angle was always wrong. I dug out my instruction book and found a way to calibrate the display, so I changed it so it seemed more accurate. Time will tell. There's another process called linearization that I might have to perform later, but this involves a requirement for direct access to the masthead unit, so if this is necessary, it will wait till fall, when I can connect the masthead unit directly to the display once the mast is unstepped.

During the afternoon, the wind gusted ridiculously, near 30 knots during the times I flipped on the power to the display. The boat constantly sidled back and forth, tacking before the wind from one side to another, and eventually it grated on me. "OK, wind," I said, "I get the point!" Then, I made the mistake of listening to NOAA, and heard perhaps the most depressing forecast I have ever heard, with forecasts of winds in the 20-30 knot range right through the weekend, except for those times it would be foggy. Of course, the forecast had changed significantly over the past 24 hours, and there was little reason to believe it might not change significantly over the next 24, so I tried not to despair. Too much, anyway The wind was too strong all day to really leave the boat for any exploring or dinghying.

Meanwhile, we were slowly running out of fresh food and ice. There was enough ice remaining for a couple more days, but we had already started in on some of the canned and packaged goods, as there was not much in the way of real food left. Fortunately, the boat was well-stocked with soups, canned food, pasta, etc., so even if we were stuck for days we'd be OK. Still, we looked forward to provisioning, soon. Unless the weather interfered...

Please click here to continue.--->