Maine Cruise 2004
Week 2
---
---
Sunday, August 1, 2004
Bucks Harbor
There was a fair bit if wind overnight, but the harbor was so protected that many of the boats--including Glissando--would not, and did not, face into the wind, town between the tides, currents, and variable wind directions caused by our proximity to Harbor Island and the steepness of the terrain surrounding the entire harbor. The mooring buoy to which I was attached was the hard plastic type, and all night it managed to bang and bounce against the hull, since the boat refused to pull away from the buoy at all. The plastic buoy, transmitted through the hull, sounded like it was surely made of concrete. In desperation at one point in the wee hours, I went on deck to remove all slack from the pendant, hoping that it would prevent the buoy from being able to contact the hull. IT seemed to work OK for a while, but the buoy continued to hit the hull as the boat gently rocked to the variations in the wind and gusts overnight.

The wind was less in the morning, and I had a relaxing morning on board. Just as I was cooking myself a big breakfast, my first of the cruised--corned beef hash and eggs--Heather's mom, "Bear", arrived in her dinghy (dubbed "the Superdink") with some fresh blueberry muffins to share. Perfect timing, and they were delicious, too. Thanks!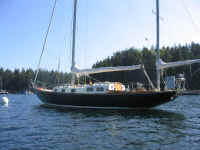 Later, I dinghied over to Dasein for a little hangout time, then it was back to the boat for more reading and relaxing. It's a tough life, this cruising. The weather was so-so, with some light showers, breaks of sun, less wind than Saturday (thankfully), and, late in the day, the threat of thunderstorms, though none materialized overhead. Earlier, Nathan had called my attention to a boat whose hull shape he liked; it turned out to be a Pearson Rhodes 41, which does indeed have a beautiful hull. We both got to thinking that one of those would make a nice "next boat" perhaps. Just what I need...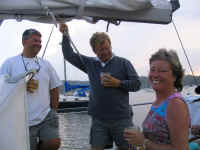 I was invited, through Lucky Bear and Dasein, to cocktails on board a Corbin 39, Yankee, friends of Lucky Bear. I was pleased to accept, and spent an enjoyable couple hours aboard with the pleasant owners Ronald & Catherine Jacks. It's always fun to see other boats, and Yankee, which was finished off by Concordia in Padanaram, was beautiful and spacious inside, with wonderful wide, flush decks forward of the low pilothouse. Coming from a small 28-footer like Glissando, I always marvel at the sheer size of these larger boats, and often begin to fall into the trap of dreaming how nice something larger might be. Then I come more or less to my senses, and realize how perfect Glissando is for us, in almost all ways. There's no denying that additional storage and interior space, and wide expanses of deck are wonderful. Of course, none of this could ever come, for me, at the expense of overall aesthetics and classic good looks. But then there's that Rhodes 41...of course, I'd have to gut the interior, replace the ports (which just don't look good on that gorgeous hull), redo any systems, the whole works. Ah, details...

After cocktails, it was over to Lucky Bear again, for some fresh mussels and excellent bread from the Bucks Harbor Market. Life is tough.
---
Monday, August 2, 2004
Bucks Harbor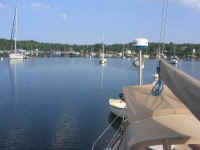 One more day in Bucks, waiting for Heidi to meet me at 1500 this afternoon. I was looking forward to seeing her, and having her aboard, though I had had a fun week+ by myself. There's no question it is more enjoyable with Heidi, though, as fun as it has been to this point. In her honor, perhaps, the weather improved, with clear skies by 0800, warm, light breezes, and temperatures in the 80s. Finally, summer! Would it last more than a day? Only time would tell, but even one superior day makes any number of lousy days previous seem insignificant, somehow.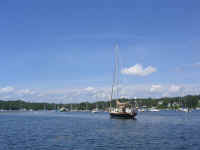 I spent part of the mooring readying the boat by topping of the water tank with a couple of my deck jugs, then heading to shore to fill the water jugs, buy ice, and fill my one empty diesel jug and dinghy gasoline can. The fuel prices at Bucks Harbor Marine were high: 5 gal. diesel, 1.25 gallons of gas, three blocks of ice, and one bag of cubes totaled $23.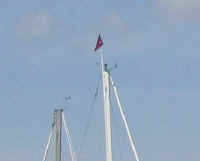 The Thompsons and Sanborns departed in the morning, and I was once again solo for a time. I cleaned up the dinghy, and spent some time cleaning all the mussels from Pickering Island that were still hanging in my mesh bag of the transom; I removed the beards and external barnacles to make for better cooking later tonight. Then, I settled down on board for a relaxing, fair-weather day in the cockpit, filled with reading, some computer work (logs), and general enjoyment. I noticed with distaste one boat sporting the dreaded "Death Star" burgee (that of the rude, pushy, arrogant, and inconsiderate New York Yacht Club), but they departed the harbor in a rush in mid-afternoon, in typical fashion.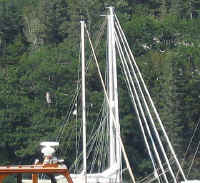 Heidi arrived right on time at 1500, chauffeured by my mom. The afternoon had turned gorgeous, with a light breeze to cool off the 80° temperatures. I ferried Heidi and her gear--plus Mom--out to the boat in several trips (glad to have that dinghy outboard, though I could have brought the boat to the dock if need be), and we relaxed for a while before Mom had to head back home.

A pair or rafted boats, each with double headsails and lazy jacks, reminded Heidi and I of the new cable stay bridge in Boston (the name escapes me now, but it's the one north of the Big Dig...Zagaro, Zagut...something.)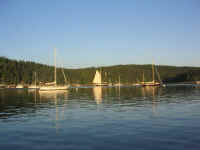 On a beautiful, still evening, we enjoyed more mussels (this time with bread to soak up the juice) and hit the rack early. It was calm all night, with nice stars and, later, moon.
---
Tuesday, August 3, 2004
Bucks Harbor - Buckle Island Benjamin River (8.04NM Plotted)

It was another beautiful morning, and with a relatively short day planned (just over 15 miles), we departed when the time seemed right--which ended up being about 0945. Our course was to take us down Eggemoggin Reach, across Jericho Bay, and to the edge of York Narrows, where Buckle Island lay.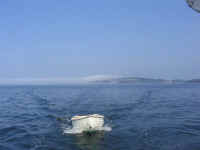 The wind was light, and was forecast to remain so. We headed southeast down Eggemoggin Motor (I mean Reach), and before long, the tide was against us, lowering our speed to about 4.2 knots over ground. What a bore. The wind remained light till we passed beneath the Deer Isle Bridge, when it began to come up directly from the southeast--exactly where we were headed. Earlier, we had noticed fog out in East Penobscot Bay, as we were leaving Bucks, and I figured we would likely run into fog once we exited the Reach into Jericho Bay--not a problem, since at that point we'd only have a few miles remaining.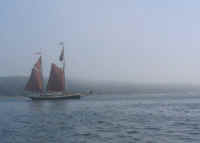 Soon, though, the southeast wind--right on the nose--began to build, and, despite NOAA's predictions, was shortly up to around 20 knots, bringing with it the expected chop that slowed our speed to just over 3 knots--excruciating. We might have sailed, though the Reach at this point was narrow, and we would have been tacking till next week. As we discussed what to do--after all, we didn't have to go to Buckle Island--suddenly the fog began to roll in with a vengeance, pushed forward by the fresh southeast breeze. Heidi said, "Abort!", I quickly seconded her opinion, and we headed off the wind for a brief--yet extremely pleasant beam reach--to nearby Benjamin River, where we had been previously and always like. Almost immediately, as we reached the narrow entrance, the fog closed off all visibility in the Reach, while it remained hot and sunny--and windy--in the attractive harbor. It was most definitely a good move to head in, even though we had only covered about half the intended distance. Near the entrance, we passed the ketch Angelique as she was just departing Benjamin River; she presently disappeared into the rapidly-descending fog.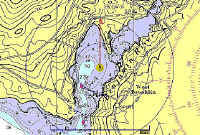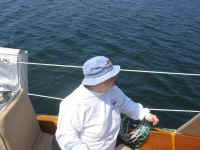 How it ends up blowing 20 knots (and higher) from the southeast, at 11:00 in the morning, when the forecast called for 5-10 SW becoming south 10-15 in the afternoon, is beyond me. How can NOAA possibly be SO wrong, SO frequently with these forecasts? I accept that any forecast beyond today's is changeable, but can't they do a better job for the immediate 12 hours?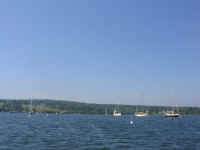 In any event, we always enjoy Benjamin River. Heidi steered us up the narrow channel to the beautiful, quiet, and spacious inner basin filled with interesting boats. The crop this year included two Concordia yawls (one a 39, the other a 41), two Rozinantes, a sleek traditional sloop, three Bridges Point 24s (including one with the small cuddy cabin that was a large inspiration for my Daysailor project) and a number of other interesting boats, including the always-favorite sardine-yacht Grayling, and even a Pearson 300--a fortunately rare and odd pilothouse 30-footer built on a Coaster hull. [Boat pictures here]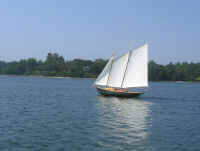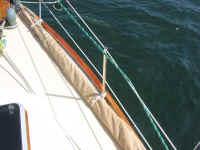 We passed a relaxing afternoon, and I took some time to fit the dinghy spars into the brand-new mast bag that Heidi had made (yay!!!)--they were a perfect fit. The new bag should protect the spars in their exposed forward position, as well as make the bundle less of an eyesore on deck. In addition, since stowing the three sections previously required substantial lashings to ensure that all three sections were well secured, the new bag might make using the dinghy for sailing more frequent, since the spars would be easier to prepare and stow back away.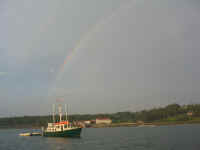 During cocktails and dinner, we had some light rain showers, followed closely by the sun's reappearance. This created a beautiful full rainbow; I couldn't capture the entire bow in one photo, but it was an excellent one. Actually, I noticed while working on this photo that there was actually a double rainbow; I hadn't noticed it at the time, but it is clearly visible in the photo.
---
Wednesday, August 4, 2004
Benjamin River - Buckle Island Somesville (27.2NM Plotted)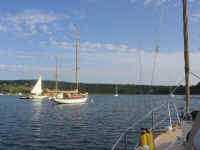 Poor Buckle Island simply can't get a break: again today, the pretty, granite-filled harbor was our original destination, but we decided to take advantage of a nice day (with a couple unsettled and rainy days in the forecast hence) to continue on to Somesville instead. Buckle Island is nice, but we could come back there later in the trip, once we have our easting out of the way.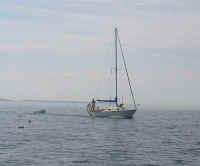 We departed Benjamin River around 0900, in bright sunshine and on the heels of a pleasant 12 knot northwesterly breeze. Unfortunately, the wind died as soon as we got out into Eggemoggin Reach, so we were forced to motor yet again. And so it went: very little or no wind for the entire day. Once clear of the reach, we passed Andrew Breece on his Cape Dory Angelina, heading back to Bucks Harbor. We hoped to have a chance to catch up with him later on, if we made a second stop at Bucks.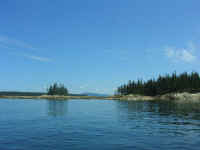 We approached our supposed destination, Buckle Island, at about 1100, after an uneventful and fast (with the tide in our favor, amazingly) passage down the remainder of the Reach and across Jericho Bay. After some discussion, we decided to push onward to where we had planned to go hte next day anyway: Somesville. Given NOAA's propensity for missed and blown forecasts, we decided to enjoy the very pleasant (sunny and hot, if windless) day and make the longish trek up to beautiful and protected Somesville.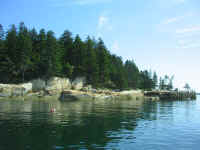 Rather than take the usual course through Casco Passage, I decided to continue through York Narrows--the pass directly north of Buckle Island Harbor--and then through the narrow pass south of Orono Island and through Mackerel Cove on Swan's Island. It was beautiful, and we had the benefit of more favorable current.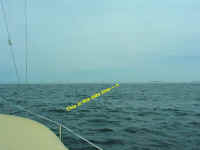 The wind never picked up, so we continued motoring across Blue Hill Bay and across Bass Harbor Bar, where there was a very distinct tide line: on one side, the western side, the water was choppy and confused; while on the other side of the line, it was completely calm and glassy. Most interesting. The tide bucked us for a time here, but eventually it returned in our favor as we entered Western Way and, finally, Somes Sound.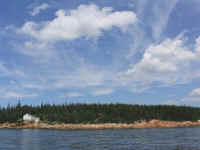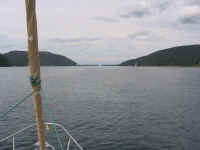 For some reason, I was fairly exhausted--hot sun, I suppose, combined with mindless motoring--yet I still decided to take the route south of Greening Island and through Southwest Harbor, hoping for a glimpse of some beautiful Hinckleys. Well, I was so fed up with the traffic, clutter, wakes, and so forth that I pretty much ignored the moored boats and concentrated on getting away from the confusion. Yuck! Southwest Harbor is basically untenable now.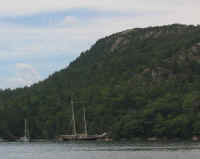 Our trip up Somes Sound was beautiful, as always. And, also as always--I'd be disappointed if she wasn't there--we saw the schooner Tabor Boy, on which I used to crew, tied up in Valley Cove, in her usual spot. I swear she has been there every time I have been by Valley Cove.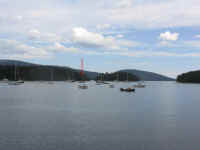 Somesville was beautiful--as usual--yet surprisingly crowded with several 40-50-something sailboats. Hoping for a secret anchoring spot, we motored way up in the harbor with one eye on the chart plotter, but at that end of the harbor, any navigable water was filled with moorings. Thus, we returned towards the mouth of the harbor and found a good anchoring spot amidst several moorings and anchored boats.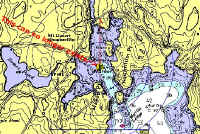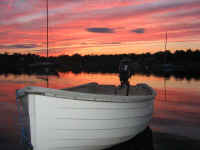 I took trash ashore--thank you to the Somesville Landing Corporation (a donation is on its way)--and the remains of the afternoon passed pleasantly. (We arrived about 1430.) I decreed an early cocktail hour at the shocking time of 1600, and by 1900 we had eaten and were watching what ended up becoming a gorgeous sunset. The evening was calm and beautiful.

Please click here to continue.--->