Cruise 2007: July 23 - August 4
Page 1 | Page 2>

July 23: Falmouth Foreside - Harmon Harbor (On Board Dasein)
This year's cruise turned out a little differently than I had planned. With Heidi's ankle surgery in early July, and her ongoing recovery, she was not able to come out to the boat for most of the summer--and therefore couldn't go on the cruise. But she was nice enough to virtually insist that I go on a cruise regardless, so I forged ahead with my plans...though I did reduce the length of my planned time aboard by a week or two. Still, I planned about two full weeks, which would be plenty to unwind and relax.

I certainly didn't have to come down to Falmouth to help Nathan deliver his boat down the coast, but for whatever reason I decided that it sounded like a fun way to begin my cruise. So early this morning, Nathan picked me up at my Mom's, where Heidi and I had stayed the night before, and we headed to the boat, departing the mooring around 0630.

We had visions and hopes of reaching Rockland--and Glissando--in a single days' travel, or about 60 miles. Unfortunately, the weather had other ideas. The day started out nicely, but before long the forecast wind--northeast, of all directions, and right on the nose--began to blow, and by the time we got outside of Little Mark Island in Broad Sound, the wind was on the nose around 15+ and strengthening--not a condition conducive to a long journey. By the time we reached Seguin, we had all but decided to head into Harmon Harbor, about the most convenient stopping point that didn't require extremely long forays up the rivers and bays for safe harbor. We arrived just after lunchtime, and as the wind gusted throughout the afternoon, accompanied by persistent rain showers, we felt we'd made the right choice, disappointing as it was.
---
July 24: Harmon Harbor - Allen Island (On Board Dasein)
Our hopes for an early morning departure were dashed at 0500 when, independently, we both awoke, took a glimpse outside, and saw nothing but fog. Thick fog. Thick wet fog. Rats.
The fog persisted through the morning, though the sky kept brightening and giving us hope. Time and again, we'd think that clearing might be immanent, only to have the fog thicken and the sky darken yet again. Compounding the frustration was the fact that, according to Heidi, it wasn't foggy in Portland.
By lunchtime, we'd almost given up hope. The fog remained thick and damp, and often, if the fog hasn't begun to lift by noontime, all hope is lost. Because of the distance to the next reasonable night's port, we'd pretty much set 1400 as a deadline for departure in order to arrive in daylight. So it was with pleasure that we finally noted the fog truly thinning, and the sun arriving overhead, at around 1300. Before long, it was clear that it was indeed clearing for real, and we got the boat ready. We decided to head for Allen Island, at the far end of Muscongus Bay, since it was close to the rhumb line track and wouldn't take us out of our way. Plus, neither of us had been there before.

With the fog rapidly retreating offshore, we enjoyed a fast and easy trip, with a light breeze on the beam giving us a bit of extra push with the mainsail. We also had the tide with us most of the trip, uncharacteristically, so we made great time to Allen Island. Once there, we anchored--it took two tries for the anchor to set--amidst the din of bleating sheep from the island, certainly a funny sound to be hearing on board. Actually, sheep are always funny somehow.

We had cocktails while watching some bizarre behavior on he lobster boat Harvester. Having apparently completed their hauling for the day, they chose a spot quite near to us, put the helm hard over and the engine in gear, and spent about 20 minutes going round and round in circles while both men on board scrubbed and cleaned the boat up. While the cleaning was admirable, the circling--particularly so close by--was quite odd indeed.
---
July 25, 2007: Allen Island - Rockland (On Board Dasein); Rockland - Long Cove (9.95 nm on Glissando)
Just before dawn, and at our intended waking time, Dasein was severely rocked by a huge wake--our buddies on Harvester again. It was just as well, since we were ready to get going. We departed early for Rockland, hoping to arrive by 0900 since once we arrived, I needed to go ashore and return home to pick up my own last minute supplies for the cruise, as well as the dinghy and ice for the icebox. We were 2 days later than we'd hoped for, so the idea was to minimize the time in Rockland and get somewhere nice for the night.

The transit to Rockland was uneventful: no wind, and clear skies. We made decent time with the tide in our favor, and arrived right on schedule, but as we entered the harbor, Nathan lowered the main and clipped the halyard onto a plastic ring he had on the mast for this purpose. I was at the helm, and suddenly looked forward to see the main halyard shackle dangling 6' above the boom; Nathan seemed equally stunned. His quick attempt to grab the halyard with the boathook proved fruitless, and at that moment the wake from the friendly Island Transporter rocked the boat and caused the swinging halyard shackle to rocket to the masthead sheave, completely and utterly out of reach. Now what? With a fractional rig, when the main halyard goes to the top of the mast, there's no way to use a halyard to get to the top of the mast. Neither of us are monkeys who were prepared to shinny up the mast.

Eventually, Nathan called Journey's End Marina in Rockland, and it seemed like they might be able to help out. So we motored the boat over to their dock, where Nathan--with some difficulty--found the right guy to talk to, and arrangements were made to use their portable man-lift off the nearby pier to send a man out and retrieve the halyard. Even though the waiting was frustrating (and beastly hot in the airless docks), the response was timely and relatively efficient, and before an hour had passed the man lift arrived and plucked the halyard away from the masthead and back down to deck.

With that out of the way, we motored back over to the spare mooring near Glissando, and then Nathan ran be ashore in his dinghy. I got my truck from the parking lot and drove home to pick up the food from my refrigerator and freezer, with a quick trip to the supermarket on the way back for last minute vegetables, bread, and ice. I also picked up my cruising dinghy at home, since I use a different dinghy for day-to-day transit to the boat at her mooring.

I was back on board Glissando well inside of three hours after being dropped off--excellent time. I stowed the perishable food and ice in the icebox, put the rest of the last minute stuff in the vee berth for now, and prepared to get underway. It was a beautiful day, and a nice SW breeze had come up while I was gone. Soon, we headed the two boats past the breakwater and towards Vinalhaven.

Nathan took some nice photos of Glissando on this crossing as well. Click here to see them.

The trip across was probably one of the better sails in memory. The wind was 15+ from the starboard quarter, so with full sail we enjoyed a thrilling and fast, surfing ride across the 6 mile-wide bay towards Vinalhaven, Leadbetter Narrows, and our destination: Long Cove.

Once inside the narrows, the wind became flukey, so we motored the remaining short distance to Long Cove. This is still one of my favorite places. Arrival at 1615 was 2 hours to the minute after dropping the mooring in Rockland. We enjoyed cocktails (dark 'n' stormies with lots of good cheese and crackers) and dinner on Glissando. (Grilled ribeye, baked potatoes, and broccoli)

Merle and Barbara Hallett were here in their bath-toy powerboat, Endurance. I really liked this boat--full of character. I was impressed that Merle recognized me (or my boat, at least), particularly since I had no idea that this powerboat was his. We had a brief chat later in the evening.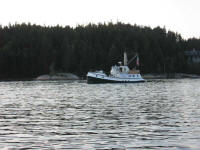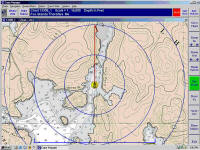 ---
July 26, 2007: Lay Day
Time for a lazy lay day, one of the great joys of cruising. It was a beautiful morning after a flat-calm night, and eventually we got the day going with Glissando's signature corned beef hash and eggs for a late breakfast.
At some point in the afternoon, I addressed my prototype coaming seat, and cut the leg to an appropriate length. The seat seemed to work quite well, though any final version would require a cushion for more comfort. I used the seat extensively on several of the future days of the cruise.
The day was un-notable but for its sloth: lots of reading, some rowing (I ogled and photographed my favorite waterfront property yet again), and too much food. Nathan made up some great fresh pizza on his grill; he complained that the grill burned the dough too much, but I thought it was pretty darn good nonetheless. The only problem was that there was too much of it. I could barely row back to Glissando afterwards.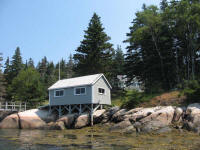 ---
July 27, 2007: Long Cove - Pickering Island (16.9nm traveled)
After a relaxing morning, the two of us departed shortly after 1000 for a run up the bay to Pickering Island. Nathan needed to meet his family in nearby Buck's Harbor the next day, and he wanted to be somewhere close by; plus, Pickering Island is a pretty and quiet spot and always enjoyable.
It was hazy, hot, and humid, with a light-to-nonexistent southerly wind. I motored out past the southern tip of North Haven, and then tried sailing in the light breeze. For a few minutes, it was OK, but then the wind died again, and I was forced to motor yet again. Around 1200, though, the wind picked up just enough to make sailing feasible, if slow, and I sailed much of the way up past the shore of North Haven, enjoying a relaxing 1.5 - 4.5 knot sail, since the wind was frequently up and down in velocity. Near the northern end of the island, though, the wind completely died--it was like sailing into a wall--so I motored again, up through the small islands to the south of Butter Island and around the tip of Butter. Then, there was again enough wind to sail, so I sailed the rest of the short distance up to Pickering.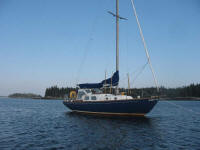 A little while after anchoring, I noticed a familiar boat coming into the anchorage: Blue Teal, an Alberg 30 owned by John Irving. Once he got his anchor set, I rowed over for a chat, and invited him back to Glissando for drinks later, along with Nathan, of course. It was a fun cocktail hour, cut short (fortunately, I think) by the early and well-organized arrival of the night's mosquitoes. We scattered to our individual cabins for the night.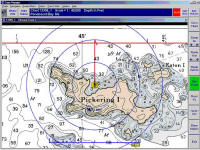 ---
July 28, 2007: Pickering Island - Buck's Harbor (5.33nm traveled)
It was thick 'o' fog this morning. Although Nathan needed to meet Heather and Gavin at Bucks that afternoon, I really didn't specifically have anywhere to go (though I also planned to go to Buck's), so the fog didn't bother me much. The fog lifted a bit around 1000, and Nathan departed; shortly thereafter, the fog came back for a time, so I decided to wait and see what happened, and hung out for another couple hours before the fog truly started to lift around noon. I departed at 1212 for the short trip up to Buck's Harbor.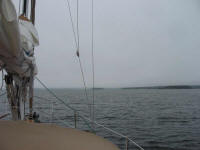 Although the conditions didn't require it, I decided to turn on the radar, and discovered that there was some sort of problem. The screen showed an error message: "HD-SIG-MIS". I didn't know what that meant, but later on I checked the Furuno manual, where in the troubleshooting section it indicated that this message related to a problem with the signal cable. I checked the connections and they seemed fine, so I wasn't sure what the problem was. In any event, this left me without a radar for the duration of the cruise, which typically isn't a big deal since I avoid traveling in the fog whenever possible. Still, I prefer having the radar available should the fog come in while I happened to be on the go, so this problem left me a bit displeased.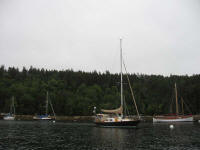 At Buck's, I eventually found a yacht club guest mooring way down in Lem's Cove, at the eastern extent of the harbor. I'd never stayed down that way before, and it felt like a different world--not unpleasant, but different and far removed from the action. It took a while to locate the mooring, since the guy at the yacht club told me it was a pink ball; there was only one pink ball down there, and it was clearly an unused, abandoned mooring. Finally, I found two white balls marked as BHYC, and gratefully picked one up, since anchoring at Buck's is a near impossibility.
Later, I put the outboard on the dinghy and trekked down to pick up some additional ice. Then, I enjoyed a drink and dinner on Dasein, complete with fresh oysters, corn, and haddock.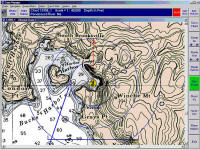 Click here to continue the cruise>>>