Silent Running
1969 Pearson Ensign
Hull # 1447

Updated 10 November 2001
We have sold our Ensign! We now have a sort of big sister to the Ensign--a 1963 Pearson Triton, which we restored over a two-year period. There will always be a soft spot in our hearts for the Ensign--a great little boat!
The Ensign Painting Project Our 1963 Pearson Triton Rebuilding Project Ensign Class Association
This is Silent Running, our 1969 Pearson Ensign, on her mooring at the Portland Yacht Club in Falmouth, Maine in summer 1999. Look for her if you're in the area. I purchased the boat from its second owner in May, 1998. The boat spent most of its life at Bailey Island, Maine as part of the then-active Ensign fleet there. The boat was in very good condition for her age and had obviously been pampered for most of her life. However, her hull was somewhat oxidized, and the decks were gelcoated (original) in a horrible aqua-blue-green color that made the boat look like a bath toy. The mahogany cockpit had been well maintained, and had suffered only from some neglect in the year or two prior to my purchase.
So, I decided to repaint the boat and restore the brightwork in the cockpit. The only paint I seriously considered for the hull and deck was Awlgrip, but I knew I would have to do all the work myself, as a professional job was far too expensive. Before tackling this project, I had no experience with Awlgrip.
I painted the boat over a period of five to six weeks in March and April, 1999. Please use the links above to navigate to other portions of the site, including before and after photos of the Awlgrip on Silent Running. Also visit our current project, The Restoration of Glissando, a 1963 Pearson Triton--a kind of big sister to the Ensign.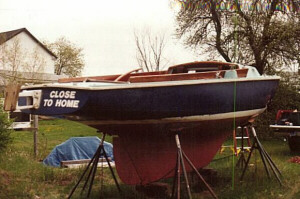 This is how the boat looked when I bought her, in May, 1998
The boat after painting with Awlgrip in April, 1999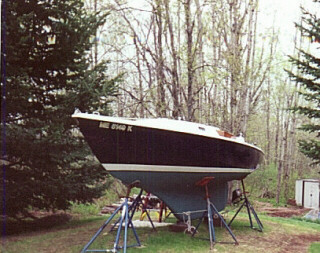 A view from the bow...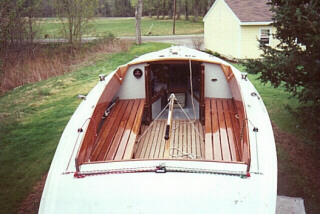 ..and the freshly varnished cockpit.
Click here to see details of the Ensign painting project.

This site is part of "The Restoration and Cruising Adventures of Glissando". Click here to go to the home page.