Maine Cruise 2008
Friday, August 15 - Thursday, August 28

Friday, August 15: Buck's Harbor

We arrived at the boat late, after work: 2100. Earlier in the week, I'd loaded most of the supplies and gear, so all we had to bring out at the last minute was perishable food and ice.

Saturday, August 16: Buck's Harbor

We didn't intend to stay at Buck's today, but it was foggy all morning with light showers. The good thing about keeping the boat in Buck's is that even on the mooring, we're already where we want to be; we used to visit Buck's as a destination stop when we sailed from Rockland and Falmouth.

We enjoyed a low-key day getting into the cruising swing of things. The fog cleared by early afternoon, leaving a beautiful, calm day in its wake.

Sunday, August 17: Buck's Harbor - Buckle Island

We departed at about 0930 on a beautiful day with an enthusiastic westerly wind--about 10 steady and gusting to 20-25. Amazingly, and for the first time in recent memory, we had a great sail eastward through Eggemoggin Reach. The breeze was healthy (one reef and full jib) and from the starboard quarter, and we scooted down the reach with ease and pleasure, maintaining about 4 knots in the lighter spots and over 6 in the gusts.

As we neared Jericho Bay, the wind headed us and lightened, but we managed to sail the entire way to Buckle; by the time we reached the island, the wind was strengthening again, this time from a more southwesterly direction. We set the anchor about 1300, and enjoyed a pleasant--if breezy--afternoon.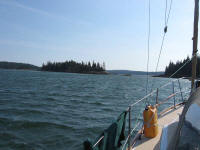 Monday, August 18: Buckle Island
We ended up staying at Buckle for another day, partly to give us time to explore the island and partly because of laziness--it's easy to become lazy while cruising. The weather was beautiful once more, with full sun and pleasant temperatures. During the afternoon, it again became gusty from the southwest, which continued into the night.
Tuesday, August 19: Buckle Island - Burnt Coat Harbor
With inclement weather forecast for later in the day, we departed at 0855 for the short trip around Swan's Island to Burnt Coat Harbor, about 7.24 miles. It was flat calm with overcast skies to the west, but sun breaking through here and there to the east. We motored the whole way, encountering a strong (in an interesting, not harmful, sort of way) tidal rip at the west end of Toothacher Bay, near Hat Island.
We picked up a rental mooring in the harbor; this is one place where I happily rent a mooring, even though there's plenty of room to anchor, since the moorings here are fisherman-owned and maintained. And they're good sturdy moorings. Shortly after arrival, it began to rain lightly, and the showers continued through much of the remainder of the day.
During the late morning and afternoon, boats started to trickle in. I didn't think much of it at first, but before long it became painfully clear that a yacht club cruise was coming in en masse. It turned out to be the Beverly Yacht Club from Marion, MA. Lots of boats, both power and sail, and mostly 40' or larger. I began to fear the worst, having never gotten over the rudeness and low-class nature of a 2002 experience with the New York Yacht Club.
Happily, the Beverly folks were well-behaved and even pleasant. The sheer number of boats--at least 26, by my count--and the overall closeness of the moorings in the harbor, made for a rather crowded feel, but despite this and despite the frequent dinghy traffic, there were no rudeness problems, no late-night parties, or any of the other annoyances that often come hand in hand with large groups.
The weather cleared late in the day, ushering in the typical northwesterly wind that gusted fairly strongly throughout the night.
Wednesday, August 20: Burnt Coat Harbor
It was a gorgeous, bright, shining morning, with a strong northwesterly wind. We decided to stay put for the day, and spent the morning watching the Beverly boats dribble out bit by bit. There were some nice boats; I was particularly taken by an older, 70s vintage C&C design in the 45-50' range. There was something about its funky ex-ocean greyhound looks that appealed to me.
It was downright chilly in the morning, but the sun soon worked its magic. After all the boats had left, I went ashore for a while; Heidi had hurt her knee during the egress to Buckle Island and chose to stay aboard. I walked down to the lighthouse at Hockamock Head, marveling once again at the gorgeous view. I noted that the keeper's house, which looked rather derelict from the water, was undergoing a significant renovation, with many upgrades already complete. I was happy to see this, as it is a nice feature and shouldn't be allowed to deteriorate. I neglected to bring my camera ashore.
On the way back, I stopped into the Swan's Island Boathouse, run by Kevin Staples, and ordered cooked lobsters for the evening, which he'd deliver to the boat at 1900. I also picked up some ice cubes, since I always like to get ice whenever it's available, and I knew we wouldn't be anywhere else to get ice in the near future.
The lobsters, delivered steaming hot in a styrofoam cooler right on time at 7 PM, were outstanding. Nice treat!
Thursday, August 21: Burnt Coat - Long Island (Eastern Cove)
Another gorgeous day. We departed leisurely for the short sail to nearby Long Island--but not Frenchboro. Instead, we were heading for Eastern Cove, where we'd never been.
We sailed slowly out through the narrow and fun eastern entrance, using only the main since the jib was useless with the wind nearly behind us. In this manner, we sailed as far as we could towards our goal, but eventually the wind died completely and, at the mercy of a strong current, we were forced to use the engine for the second half of the trip.
Eastern Cove was beautiful--undeveloped, bold-shored, and with outstanding views north to Mount Desert. Unfortunately, the Frenchboro Flies were out in force. Every time we go to Long Island, we're inundated with annoying biting flies that like to stay in the cockpit well and bite ankles.
The views from shoreside were unparalleled. The cobble beach was littered with reminders of how bold the area was, though: countless smashed lobster pots, bits of uncategorized debris, and even some large sections of a fiberglass boat that had clearly met its end here, or nearby.
Friday, August 22: Eastern Cove - Hell's Half Acre
No wind. We departed around 0930 and powered 13.7 miles to Hell's Half Acre in Merchant's Row. We tried sailing for a while outside of Swan's Island when a light breeze sprung up, but it didn't last long. We had a fair current as we headed through Toothacher Bay and across Jericho Bay.
Once again, it was a beautiful day--a bit warmer and hazier, much more summerlike. The wind remained light to nonexistent all day, and after a hot dog lunch upon arrival we spent the afternoon in the usual way.