Cruising Log: June 20-22, 2003
Early in the Week...
As anyone in the northeast knows, this spring and sailing season has, to date, been fraught with rain, drizzle, and generally inclement weather. For those of us lucky enough to be able to sneak to the boat during the work week, at least there have been some sailing days. Weekends, though, have been incredibly poor for the most part, and I feel bad for people holding down jobs with regular hours.
The summer was shaping up to be somewhat more complicated than I might have liked, what with Heidi having a busy work schedule, my own plans for building a boat barn, and other commitments getting in the way of an extended cruise. We hoped to get away for the weekend, finally...our first chance of the season, really, and the only chance in sight for the next several weeks. One might say I was becoming...desperate, perhaps, to get back out for even a small taste of cruising. With a forecast for a decent weekend, we made plans to head out for three days.
Throughout the week, I paid close attention to the forecast, becoming increasingly frustrated as each day progressed and the forecast changed radically, day to day. By Thursday morning, after a ridiculous shift in the forecast for the weekend, I was a basket case, as it seemed suddenly that the weekend might not be what we had expected. My composure cracking, I worked myself into a tizzy over the weather. I should have real problems, right?
As it turned out, the forecasters had no clue what they were talking about--this time, for once, in the right direction (that is, they forecast doom and gloom, but what we got was sun and shine). We had hoped to get on the boat Thursday evening and get a jumpstart on the weekend, but Heidi's work ran late, and we weren't able to get there. We made plans instead to leave Friday morning, side by side with Heather and Nathan on Dasein.
Friday, June 20
We arrived at the boat at about 0945, a but later than we had hoped but still within the realm. The sky was partly overcast, with a northerly breeze. The first order of business, after stowing gear and supplies, was to figure out where we were going. It was deemed that a skipper's meeting be called, so I rowed the dinghy over to Dasein and we huddled with a mangled chart in the cockpit to debate some possible cruising locations for the evening. After a short discussion, we decided on The Basin, an essentially landlocked saltwater pond in Phippsburg, on Cape Small. With the north wind that was blowing, it looked like it would be a pleasant sail. With the decision made, I rowed back to Glissando, and we prepared to take off. I hadn't run the engine in weeks, so I decided to fire it up to make sure all was well before we departed--of course, there was no problem. Better safe than sorry, just in case.
Just outside the anchorage, I killed the engine and we began sailing, enjoying the perfect northerly breeze and rapidly clearing skies. Before we had gone a half mile, though, the wind began lightening dramatically, and the two boats were soon drifting at a pathetic 2 knots. Since we would never get where we were going at that rate, we decided to motor, and powered in succession through the Chandler Cove and around the web of islands in the bay headed in the general direction of Cape Small. As we passed ubiquitous Little Mark Island, resplendent with its unique monument, a southeasterly breeze sprung up (amazingly as predicted), and I decided to try sailing. It was wonderful--just enough breeze for a pleasant 3.5 - 4 knot sail with the sails set for a fine close reach. The sky was clear, the temperatures warm, and the seas gentle (despite a large swell). Perfect!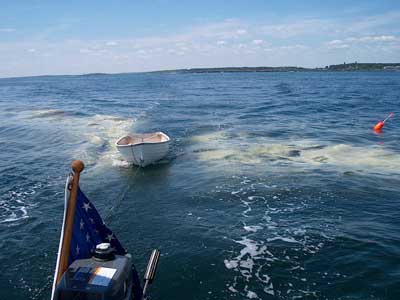 Late June is serious pollen time here in southern Maine, particularly White Pine pollen. The ocean was covered with the stuff, with thick collections of it banded tightly around unseen current divisions in the water. Glissando carved a pathway through one particularly heavy band...yuck. This stuff gets all over the hull and looks terrible! Perhaps I'll paint my next boat pale yellow.
We sailed just offshore of the outer islands ringing Quahog Bay and environs, finally turning in past Bold Dick rock (a nasty, mostly-submerged monster) and White Bull island up the broad entrance to the New Meadows River, off which The Basin lies. By this time, the wind seemed to have lightened considerably, but with a fair current we were still moving at around 3 knots over the ground--despite thru-water speeds of only about 2 knots. Turning roughly northward towards the river, the apparent wind direction shifted further and further aft; with the large swell and light wind speed, we needed to sail strong angles downwind to keep the boat moving and sails full. Time and again, I thought the wind was dying for good, only to find a resurgence of fresh air that kept us moving at just about my self-imposed "too slow" threshold. It was such a nice day.
After a number of gybes back and forth, we finally found ourselves nearly opposite Cundy's Harbor, only a short distance from our destination. The wind had been dropping steadily, and finally chose this moment to more or less peter out entirely; our boatspeed dropped beneath a knot, and Heidi put the kibosh on any further attempts at my stubborn tendencies by declaring the "time of death" to be that very moment, 1526. I started the engine, we rolled up the genoa, and began powering the final mile. Heidi steered while I lowered and flaked the mainsail and prepared the anchor. Behind us, Dasein was doing the same.
The entrance to The Basin is a cool, narrow channel, lined thickly with trees and granite. Nary a house could be seen. Once inside, we chose an anchoring position off to one side in 19' of water at mid tide. I lowered the CQR, and it was as if a huge magnetic field had grabbed the ferrous anchor and pinned it to the bottom; I barely had all 30' of chain out when the anchor grabbed fast. My kind of holding ground! I let out 90' of scope and backed down on the anchor for several minutes, not that it seemed to need much help setting itself. By 1600, the anchor was set, and we had arrived.
With that perfect, shining, golden light of the almost-longest day of the year blessing us and the rest of the harbor, the four weary sailors gathered in Glissando's cockpit for cocktails and merriment, at least until being forced below at sunset by voracious mosquitoes that overtook the boat by force. Before long, they had blanketed the sailcover with their squirming bodies--gross! Below in the cabin, though, we enjoyed some fine haddock, poached over a bed of onions, green and black olives, tomatoes, capers, and seasoning, accompanied by fresh greens picked in the morning before leaving home.
Saturday, June 21

After an eerily still night, complete with "spotlight" moon at about 0100, we awoke to one of those gorgeous, bright, blue mornings that make you want to kiss the ground (or the decks, as it were) in reverent thanks. Heidi, as is her wont, stayed in the rack for a while, but I got up to sip coffee and read a book in the cockpit and simply soak in the relaxed air. Quiet, relaxing, and peaceful hardly begins to describe the scene.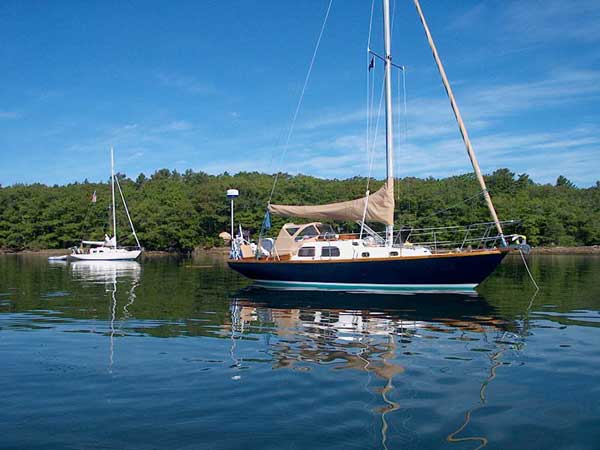 Unfortunately, previous commitments meant that Dasein had to depart this morning, but Heidi and I decided to stay right where were, as the forecast was for benign--if increasingly cloudy--weather during the day and night. At about 0930 or 1000, Dasein weighed anchor and headed out, while Heidi and I settled in for a pleasant and relaxing day at anchor. I rowed around the entire Basin, checking out a few anchored boats and the general shoreline topography, and we read and relaxed all day, while watching a nearly endless parade of small craft enter The Basin, drive around what I dubbed the "great circle route", and left again. In nearly all cases, these boaters proceeded slowly and without raising large wakes. I few people asked questions about the boat as they went by. The wind remained very light, and it gradually became cloudy as the day wore on.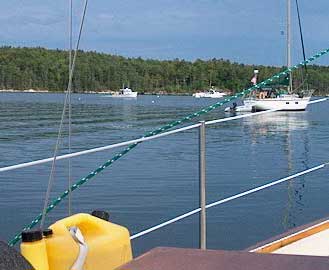 All the boats sliding through the area provided some entertainment, but perhaps none more than a lobster boat that roared, unruffled, deep into the cove before slowing down--OK, we're all sooo impressed. I don't know what they were doing, but at one point they shut the engine down, and before long I became aware of a recurring whirrr...whirrr...whirrr noise--which I finally determined was the lobster boat's starter. For whatever reason, they couldn't seem to get the diesel going! A small aluminum fishing boat, which had been loosely conversing with the lobster boat, was nearby, and appeared to offer up a tow. They towed the boat successfully for a short distance, but then stopped, and the whirrr...whirrr...whirrr recommenced. I could hear the boat's battery getting weaker and weaker as the assuredly peeved lobsterman (with his group of cronies on board) ground it repeatedly and mercilessly to no avail, finally giving in and being towed out of the harbor. The remainder of the evening passed without further incident to report.
Sunday, June 22
We had some rain overnight, as predicted, but by the morning it had ended, with only gray skies remaining. With the prospect of more rain later in the day, plus some things to do at home, we weighed anchor and departed at 0900. There wasn't a breath of wind to be found, but we raised the main anyway and motored out.
We chose the inside route home, a narrow channel strewn with rocks and rocky islands--yet easy to traverse. It also happened to be nearly a half mile shorter than the way we sailed in on Friday; any way to shorten a boring motor is welcomed. The seas were oily calm as we motored out the New Meadows River, outside of the entrance to Quahog Bay, and past Orrs-Bailey Islands and back in the narrow pass inshore of Little Mark Island.

We could see rain showers around us in all directions, but fortunately our own little area was clear. We had an uneventful passage back, until shortly before arriving in Falmouth when, bent over slightly coiling a line in the cockpit, some part of my back said, "Um...no thanks," and snapped--causing immediate and intense pain and inability to move normally. Now, I've occasionally strained by back here and there, but never like this--never had I felt so immobilized by pain. All I was doing was coiling a jib sheet, for heaven's sake...though perhaps the event was predicated by my raising the anchor several hours before (I could understand if my back didn't care for that).
In any event, we got back to the mooring at about 1230 or 1300 (in my pain, I forgot to check the time) and I managed to weakly go about my requisite boat-bedding chores, though with little enthusiasm. We packed up and departed, having thoroughly enjoyed our snort cruise.