Combined Log for June 20, and June 21-22, 2002
Thursday, June 20
Thursday was bright and beautiful, and I thought it would be a great opportunity to take my Mom for a sail, since she won't get many chances with us leaving for most of the summer. I went down to the boat early and loaded some gear on board, and Mom showed up at about 9:30 and we headed out into the beginnings of a breeze.

After raising the main and unrolling the jib, we sailed upwind roughly towards Portland, enjoying the gentle breeze and warm sun. It was extremely pleasant, and the wind was perfect for a relaxing sail. Along the way, we passed a local Portland charter boat, Palawan, looking grand and replete with shiny new sails. The wind was light and they were barely moving, while we were steaming along nicely at a few knots. I exchanged a wave with the skipper, one classic boat to another.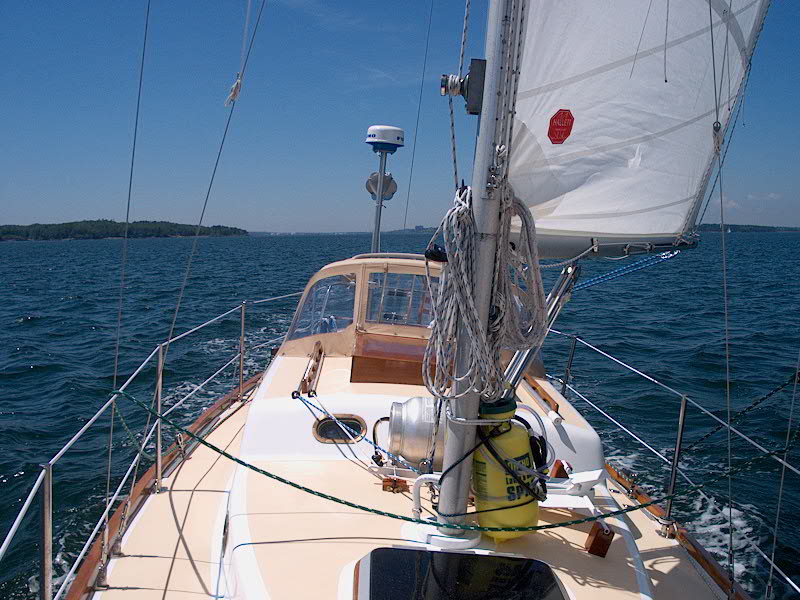 Eventually, we turned around and headed downwind on a nice reach towards Chebeague and Cousins Islands. The wind was a bit stronger and steadier now, but extremely pleasant--about perfect, I would say. I gave Mom the helm and roamed a round the boat for a while--nice to see some different views than just that from the cockpit. We soon overtook a Seafarer 31 or some such that we had actually passed going the other direction while we were still sailing towards Portland, so they had a pretty fair head start. I just can't help bragging about the sweet sailing ability of the Triton...she continues to amaze and impress.

We jibed past Basket Island Ledge, with which you must all be becoming familiar by now, and sailed back towards the mooring. As the wind increased a little further, I rolled in a few turns on the genoa to keep the boat on her feet; had we been staying out, I would have put a reef in the main, but we were nearly home. We picked up the mooring at about 1:30 after a very pleasant 4 hours sailing around the bay. (With the light wind, it tool a long time to sail up to Portland.) After putting the boat to bed, we went ashore during a very low tide to find one of the club

member's boats hard aground on his mooring, which was (and always has been) way too close to shore. Why people want to be so close to shore anyway is beyond me...I like being moored way out. It's more private, there's less through traffic, and it's easy to sail on and off the mooring. With launch service, what's the difference? Sadly, I went home and painted my house. Yuck.
Friday, June 21 and Saturday, June 22
Heidi and I planned to spend Friday night on the boat. With an absolutely glorious "real" summer day on our hands--calm, sunny, 85°--I had to go out nice and early to enjoy the full effect. After dropping the dogs off at my Mom's, I went to the boat, laden with even more stuff to load on board. Once there, I spent a couple hours loading stuff into lockers and reorganizing things for the 30th time (a continuing process...). Soon, I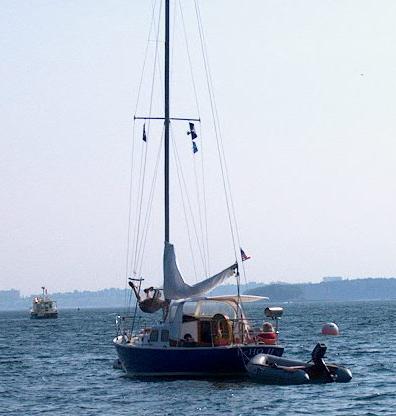 decided to take a break, despite my project list for the day, and I thought I would deliver a new Triton burgee to fellow NETA members Jock and Peggie on board E-Ho II. I powered up and started towards their mooring, but the boat wasn't there. I happened to catch a glimpse of them across the way over at Clapboard Island, so I motored over to complete the delivery. "Come alongside and tie up for a while", they offered...and who was I to refuse such a kind offer? I rafted alongside and joined them in their cockpit, beneath their comfortable sun awning, and enjoyed an impromptu feast of several fine cheeses, fruit, and chilled white wine. Wow! What a treat! We spent a couple pleasant hours eating and chatting, and Jock even showed me his little camp hammock that he rigs up on the foredeck. I was envious, and he offered to pick one up for me at the Kittery Trading Post, which is near their home. Thanks! As the photo attests, the hammock is certainly a relaxing way to spend an afternoon on board on a beautiful summer day.
Bidding them goodbye, I returned across the w ay to the mooring, so I could continue to work on my projects for the several hours before I was expecting Heidi to arrive from work. As I was wedged headfirst into the vee berth installing some padeyes to hold our charts, I heard commotion alongside and realized it was the launch, with Heidi aboard--surprisingly and pleasantly arriving early from work. I quickly wrapped up the project at hand and we returned back across to a mooring at Clapboard, where we intended to relax and spend the night. We relaxed for a couple hours, during which, surprisingly, the southerly wind that had been languishing at under 5 knots all day picked up in intensity to between 15 and 20 knots, and the gusts racked the boat for a while. Later, we were joined by Heather, Nathan and Bailey (their Border Collie) who also motored over in Dasein for the night before heading off elsewhere for the weekend. The five of us enjoyed some cocktails and merriment in Glissando's cockpit while the sun went down, and then we parted ways for the night. Heidi and I didn't even bother cooking dinner as we felt satisfied with the cheese and crackers, and olives, we had during cocktails. (By the way, we found a delicious Pub cheese that does not need refrigeration before it is opened...what a marvelous find! We'll stock up.) After a long day of strenuous activity on board (ha!), we retired to the vee berth at about 9. Ah, the cruising life.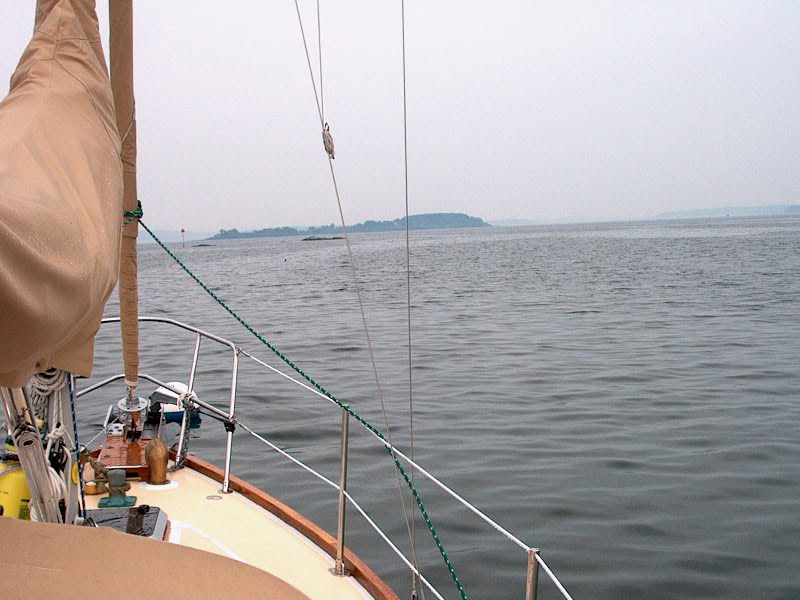 During the night, the wind died down completely, making for a very pleasant night on board with warm temperatures and no bugs. I awoke early, as usual, to a day of multiple shades of platinum, silver, and gray--basically pleasant, but not sunny. Shortly after I got up, it began to rain, and we had several showers of varying intensity during the morning. I enjoyed a couple cups of strong coffee and read for a couple hours under the dodger. Later in the morning we undertook the violent and terrifying passage the half mile back across to the anchorage, (just kidding, of course) where we tied Glissando to her mooring and returned home; I had thought of staying out longer myself, but since it wasn't a terrific sailing day (very light wind and frequent showers) I decided to come in as well. But what a pleasant couple of days, which have only served to excite us even more about our upcoming cruise!