Log for Sunday, August 19 2001
The day dawned bright and warm, and by 9:30 we were on the boat and ready to go. Heidi's dad had traveled up from Massachusetts for the day, so we were looking forward to a good day on the water--his first on Glissando.
Because of the early hour, there was no wind. We raised the main and headed off under power. Deciding to head outside the islands, we motored through Hussey Sound and out beyond the islands. The sea was about as flat as is possible, with no signs of wind on the horizon. Resigned to a long motor, we headed north along Long Island, intending to go around Chebeague and back up to Falmouth.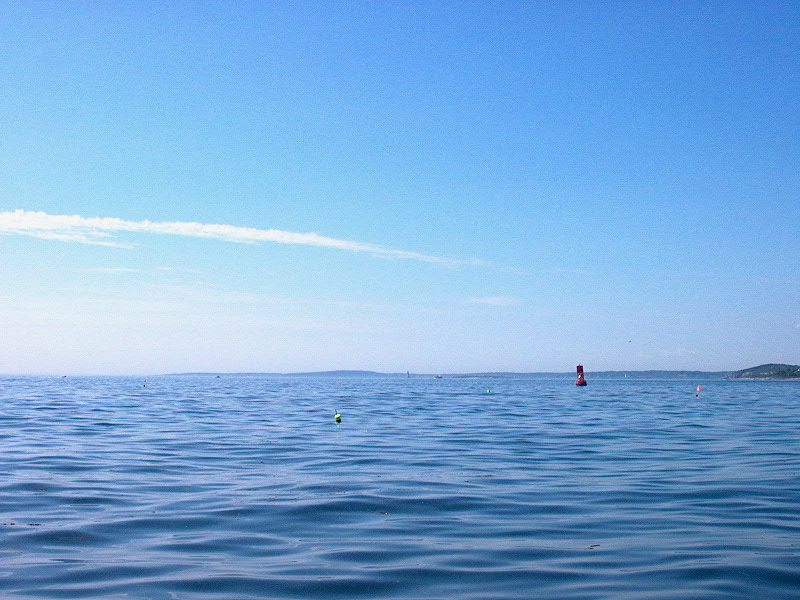 Leaving Hussey Sound with Cape Elizabeth in the distance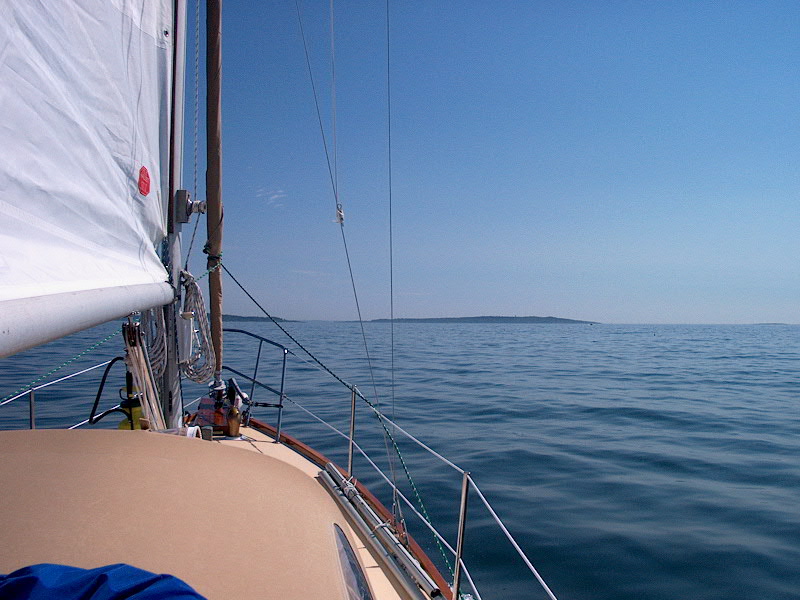 Jewell (right) and Cliff islands on a flat, windlass day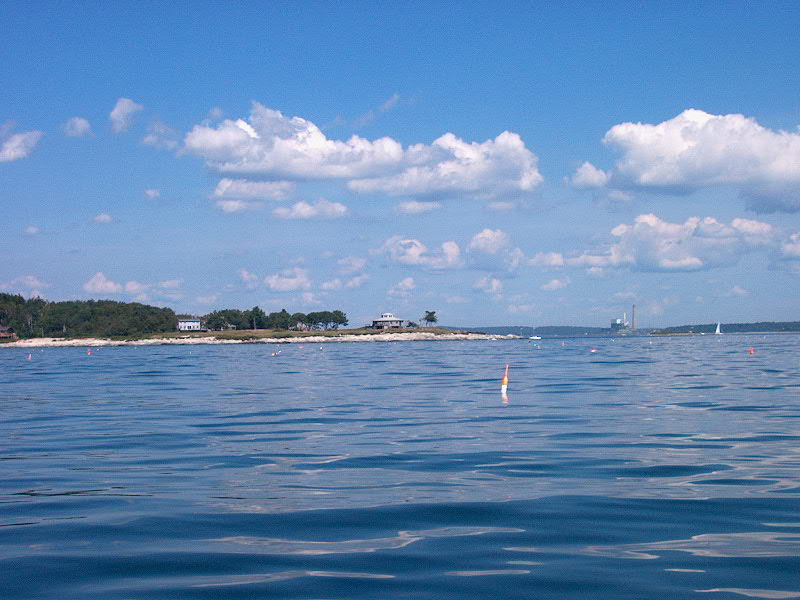 A unique octagonal house at the northeastern end of Long Island. The ubiquitous Wyman Station is visible in the distance...you can see it from just about anywhere in the bay.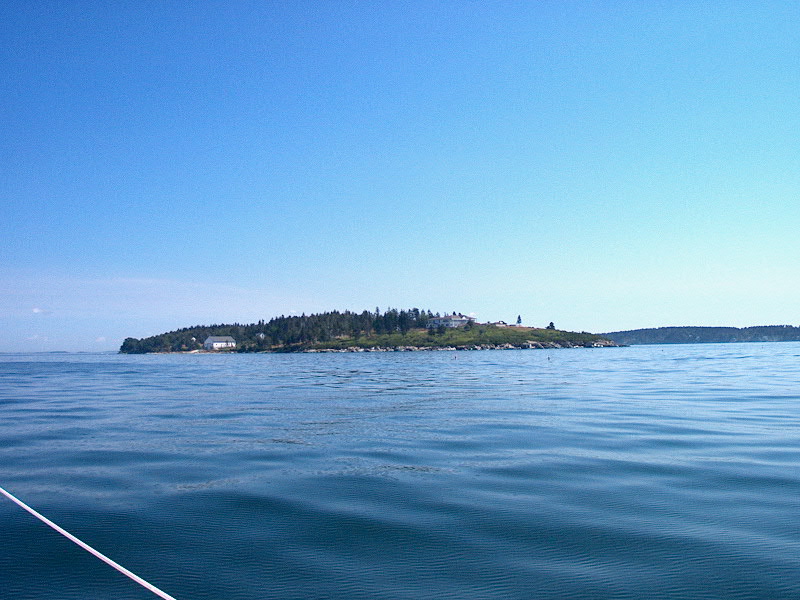 Hope Island, with somebody's monument to their own success perched on the southern tip. There used to be a large--but typically coastal and attractive--house in the same spot, but apparently it wasn't enough "Southern California Spanishesque Villa" for someone, so this hideous blight has gone up its stead. It looks like a cheesy version of the White House. Not that I have an opinion. UPDATE! 11/5/01 The latest news is that the owners of this island, a New York developer and his wife, have filed a request for secession with the town of Cumberland (the island is part of Cumberland) . Apparently, amazingly enough, the town doesn't provide these poor people with any services in return for their taxes. Is that a tear I feel on my cheek? Yes, after millions of dollars in new construction and supposed upgrades to the island by the owners, shockingly the tax bill has risen to over $32,000 annually. Imagine that. Yeah, I guess they're right...buy a large island and you should be immune to taxes. Yup. It's not as if the town previously supplied services to this island, and stopped suddenly...come on, it's an island 6 miles off the coast! Sheesh! Nouveau Riche people with more money than taste and no class, hoping to come to dumb little 'ol Maine and take advantage of the yokels. Thank you, I think I'll support the town in this one--and I hope they raise the tax rate! Why don't you go home, Mr. & Mrs. Hope Island--Maine isn't just a playground for you to do with what you please in your off time. There are actual people here too, who actually manage to live and work here all the time. We really don't want your type around, quite frankly--that's why we live here in the first place. Oh, and this goes for Martha too.*
*Disclaimer: This opinion does not necessarily represent that of only the webmaster...there are lots of other people here in Maine who undoubtedly agree!
UPDATE!! Just to add to the fun, check out this link to see what else this guy has been up to. Is he for real? Needless to say, I think he's pretty much a laughing stock around here.
Developer Reveals South Portland Hotel Plan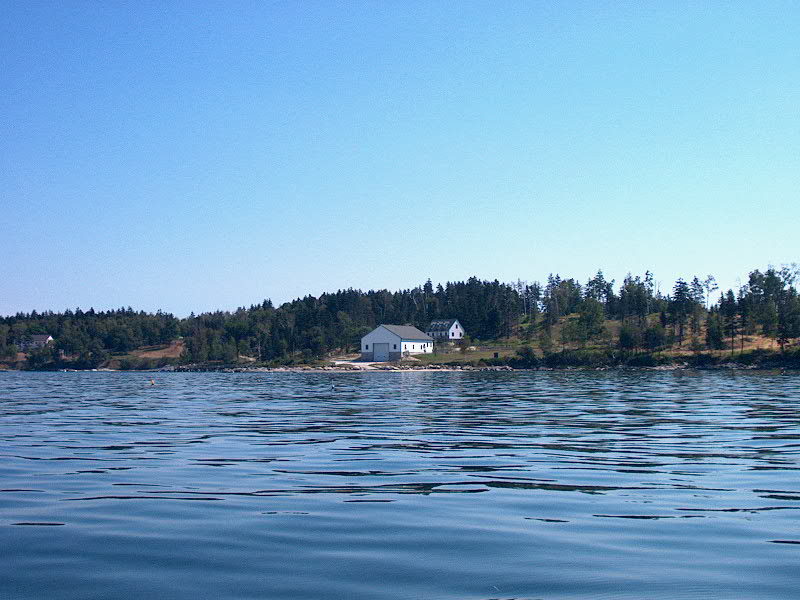 A little further north on Hope Island is the large boathouse and a much more manageable cape behind it. There's a little chapel in the woods to the fight of the boathouse that you can't really see--it's actually kind of nice, amazingly. (Although I wouldn't mind having that boathouse for my boat!)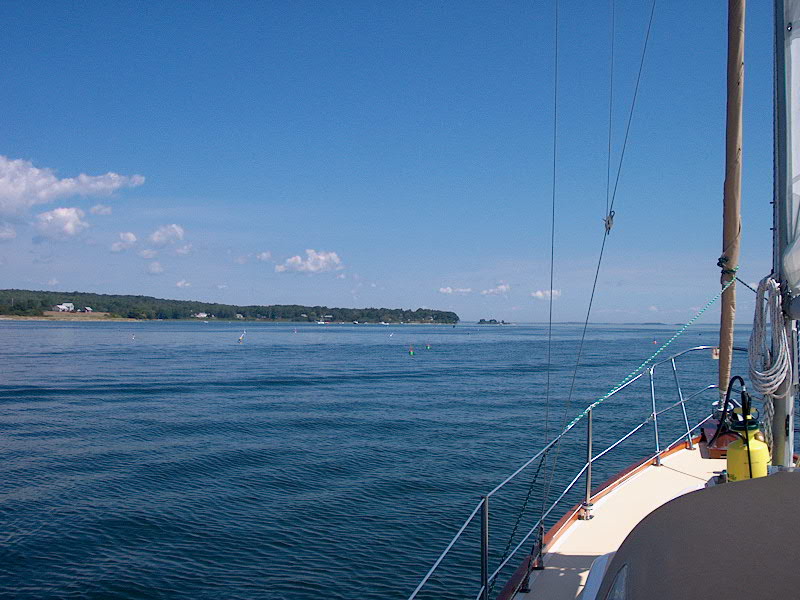 Chebeague Island
Glissando returns "home" to the little boatyard on Chebeague where we found here. The anchorage is right inside that small island.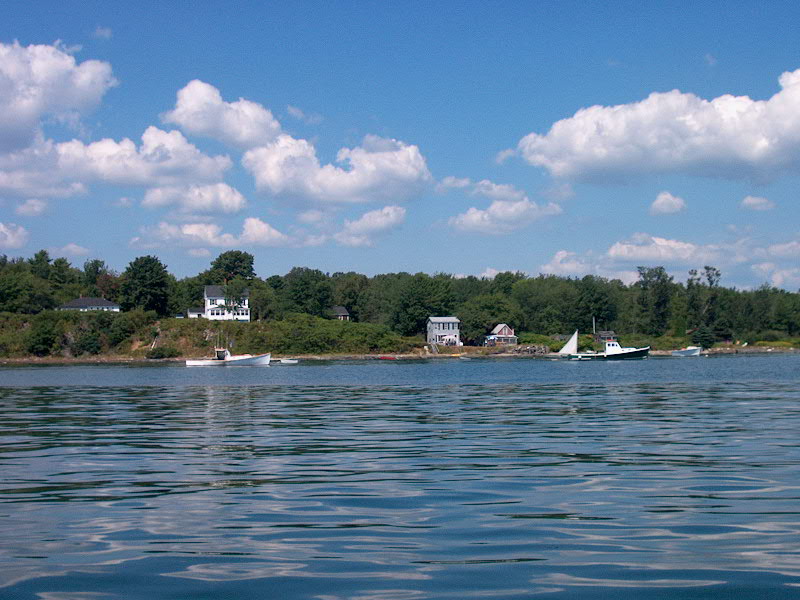 Soon, we rounded the northern side of Chebeague and the wind filled in--giving us a great sail back between Chebeague and Little John Island towards home. We made it in one tack--always an accomplishment when going through the narrow channel. (Click on the chart below.