At this time, we are not considering Volvo or Beta Marine engines. Why not? Lack of an acceptable track record, no local dealer support (Beta), or at least no dealers we wish to deal with (Volvo), unanswered questions about long-term reliability and parts availability, etc. The Universal is not really under serious consideration either, although we're trying to cover our bases. The choice between the Yanmar and Westerbeke is a little more difficult, however.
We have a Yanmar dealer locally who comes well recommended by a friend. We've also been quoted a fair price for the engine, and I think it will be relatively compatible with our existing mounting system. Yanmars also enjoy a good reputation worldwide.
However, the Westerbeke has some things going for it too--good engine features, solid reputation, etc. I know a little less about the Westerbeke than the Yanmar. Also, the nearest dealer is in Massachusetts--not a substantial obstacle, but something worth considering.
I have documentation coming in the mail for both of these engines. As anxious as we are to start moving ahead with the replacement, I think we will be well served to ensure that we are making the best choice. I will not rush the process, despite my general inclinations to make a decision, stick with it, and move quickly. At this point, I'd rather upset our summer plans a little in order to get the best long-term result.
We have all but decided to go with the Yanmar 2GM20F. We've gotten a fair price quite from Orr's Island Boat Works, and I expect to go ahead with the order early next week--after getting a few minor questions answered. The scuttlebutt is that the Yanmars are reliable, trouble-free, easily maintained, and generally very satisfactory. There were a few questions raised by Westerbeke owners about the service and such after the sale, while I know that Yanmar has an excellent parts and dealer network. I heard not one negative comment about the Yanmar.
Yesterday, I ordered our new engine! We went with the Yanmar after much thought. It will fit with only minimal modifications to the engine beds, which is a huge factor--I will have to slightly raise the beds, which is easily accomplished. I ordered a new propeller (12Dx13P) to match the new engine, and also purchased a nice new Vetus single-lever control to replace the existing Morse controls. We ordered the engine from Bill Sweetman at Orr's Island Boat Works--a great guy, and a nice small, low-key business. When I ordered it, he told me that there was only a couple days' wait for delivery--good news! Now that this process is underway, I'm excited about the new engine, and can't wait to remove the old one. I ran it again yesterday, and it was smoky as ever. Good riddance...
If the engine arrives this week, I plan to do the swap next week, as long as the boatyard can accommodate. I plan to haul out to make things easier--and I have to change the propeller anyway. My goal will be to do the swap as fast as possible and get the boat back in the water.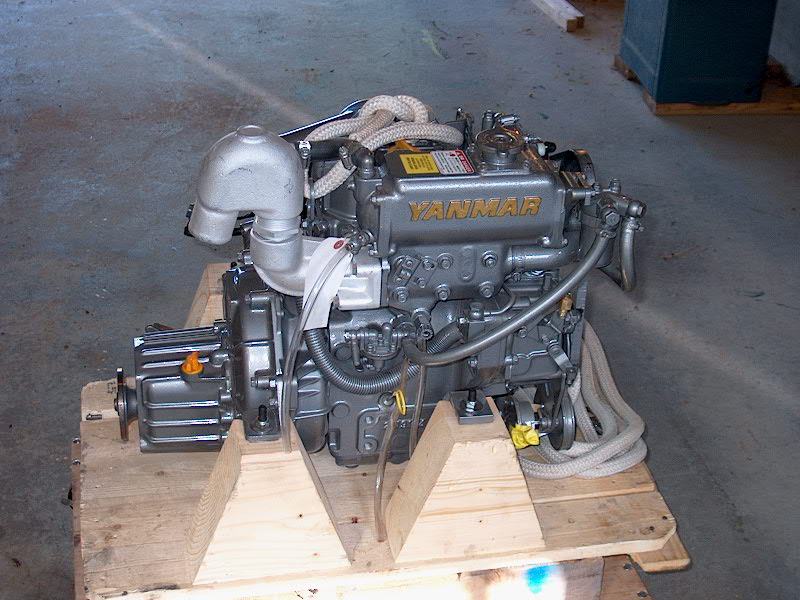 The engine arrived on Tuesday, a little later than expected. I drove up and picked it up from Orr's Island, and returned home with my shiny, beautiful new engine! I got it out of the truck the same way I did with the old SB12 back in January 2000. This one looks a little nicer, though.
I scheduled a haulout for Monday, July 30, 2001. I hope to have the old smoky beast out by the end of that day, and be well into preparations for installing the new engine. I have a new propeller (12x13 Michigan Sailer 3 blade) to install as well.
Please follow the installation process by clicking here.