Winterizing: 2003
This page was last updated on 18 October 2003.
Winterizing he boat is old hat by this point, both for me and for you, dear reader. However, this year, a new twist has come about: how do you run an engine inside an enclosed permanent structure? What do you do with the exhaust and water discharge? The answers to these questions are what makes this more interesting this year.
Strictly speaking, winterizing was probably not necessary, as I expected the barn to be heated well above freezing at all times. Still, this is not a chance I would willingly take, and besides, there's the corrosion-protection component of running fresh water and antifreeze through the engine passages. Therefore, winterization for long-term storage was important no matter what.
I couldn't simply run the engine as usual, because the exhaust discharge would have made an incredible mess of everything in the shop. Not possible. So I had to come up with a plan to collect and discharge this exhaust outside the shop--without, obviously, moving the boat. To make matters more difficult, the boat was located on the far side of the building from the side opening, and stern in from the front door, so the exhaust outlet was about as far away from an opening as it could be.
I decided I needed a bucket with piping attached that would drain the contents outside the barn. As far as the exhaust smoke and fumes, I planned to simply open every door and window and let nature take its course--there was little else I could do.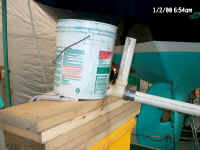 I rigged up a 5 gallon bucket with a PVC drain fitting. You'll see in the photos that there is a vertical piece of pipe running up outside the bucket. This has no function whatsoever. It exists only because I used old sections of PVC that I had lying around, and this particular "T" fitting fit the bill as far as installing in the bucket (it had a short length of pipe on one side of the "T" that, coupled with the fitting itself, formed a good flange-type seal on the bucket). Because I couldn't remove the vertical pipe, and because I had no other pieces suitable for this use, I used it as is, simply cutting the vertical piece off just below the top of the bucket. Call it a vent, if you must, but it really has no function.